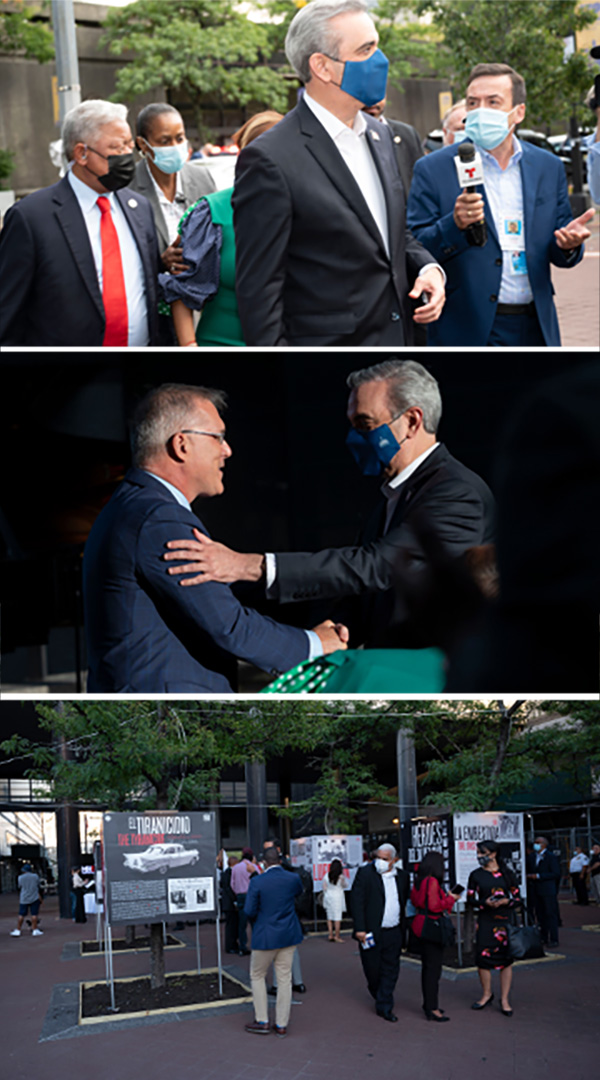 From the top: D.R. President Luis Abinader arrives on the CCNY campus; meets with CCNY President Vincent Boudreau; and part of the "Year of Freedom" outdoor exhibit on campus.
In New York City for the United Nations General Assembly, Luis Abinader, state President of the Dominican Republic, took time off to visit The City College of New York and inaugurate the "1961: Year of Freedom" exhibit that commemorates the end of the Rafael Trujillo dictatorship on the Caribbean Island 60 years ago. Pres. Abinader was joined at the ceremony by City College President Vincent Boudreau. 
A free and open-to-the-public photography exhibit on the CCNY campus, "The Year of Freedom" runs through Nov. 30, 2021. It is organized by the Dominican ministries of Culture and Education and curated by Patricia Solano and Juan Miguel Perez. The CCNY-based CUNY Dominican Studies Institute (DSI) is the host. 
 The exhibit is educational in nature and centers around the year 1961, when the autocratic Rafael Trujillo (1930-1961) was taken down by the Dominican people. 1961 is now an official date in the Dominican Republic and celebrated among Dominicans everywhere, as the year of freedom. The exhibit will feature many never-before-seen photographs, chronologically depicting Dominican resistance during that period.

The exhibit will welcome visits by NYC public schools and professors teaching Dominican/Latino studies courses in CUNY and other institutions. 

City College has been the alma mater of generations of graduates born in the D.R. or of Dominican heritage.

About the City College of New York
Since 1847, The City College of New York has provided a high-quality and affordable education to generations of New Yorkers in a wide variety of disciplines. CCNY embraces its position at the forefront of social change. It is ranked #1 by the Harvard-based Opportunity Insights out of 369 selective public colleges in the United States on the overall mobility index. This measure reflects both access and outcomes, representing the likelihood that a student at CCNY can move up two or more income quintiles. In addition, the Center for World University Rankings places CCNY in the top 1.8% of universities worldwide in terms of academic excellence. Labor analytics firm Emsi puts at $1.9 billion CCNY's annual economic impact on the regional economy (5 boroughs and 5 adjacent counties) and quantifies the "for dollar" return on investment to students, taxpayers and society. At City College, more than 16,000 students pursue undergraduate and graduate degrees in eight schools and divisions, driven by significant funded research, creativity and scholarship. CCNY is as diverse, dynamic and visionary as New York City itself. View CCNY Media Kit.