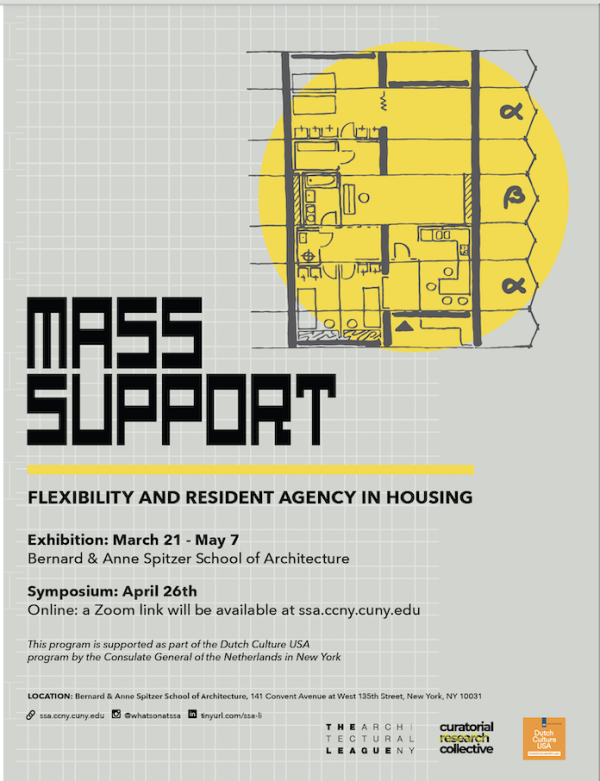 CCNY's distinguished lecturer Cassim Shepard is one of the curators of "Mass Support" exhibition and symposium which opens in the Spitzer School's Atrium Gallery on Tuesday, March 21.
Making its U.S. debut, the exhibition "Mass Support: Flexibility and Resident Agency in Housing" opens at the Bernard and Anne Spitzer School of Architecture at The City College of New York, on Tuesday, March 21 with a reception at 6 p.m. in the Atrium Gallery. The exhibition which runs through Sunday, May 7, is a joint presentation by the Spitzer School, The Architectural League of New York, and the Curatorial Research Collective of the TU/e, with support from the Dutch Culture USA program of the Consulate-General of the Netherlands, New York, and is the first in-person show at Spitzer since 2018.
"Mass Support" explores the legacy and contemporary relevance of the Stichting Architecten Research (SAR), a Dutch architectural think tank active between 1964 and 1990 that proposed a radical way of thinking about mass housing, one that fused the efficiency of industrial construction with the flexibility of user customization. Initially led by Dutch architect N. John Habraken, the SAR suggested new functions for the construction industry, for households, and, crucially, for architects.
An online symposium, a companion to the exhibition, will be held Wednesday, April 26, from 10 a.m. to 4 p.m. The symposium focuses on flexibility, resident input, and modular building in contemporary architecture, exposing participants to the under-examined interface of robust community engagement and innovative construction technology. A Zoom link will be made available at ssa.ccny.cuny.edu.
According to Cassim Shepard, distinguished lecturer at the Spitzer School of Architecture, and part of the curatorial team, "Given the urgency to increase the supply of housing across the country, we need to examine how to combine innovative construction technologies with a deep commitment to responding to the needs of distinct households and communities."
This exhibition — a new iteration of a show that premiered in the Netherlands at Eindhoven University of Technology (TU/e) in summer 2022 — charts a path forward. It highlights 10 recent projects that resonate in different ways with the legacy of the SAR's pathbreaking work—from new models of social housing in Berlin and Barcelona to new applications of prefab construction in Beijing and Brooklyn.
About the City College of New York
Since 1847, The City College of New York has provided a high-quality and affordable education to generations of New Yorkers in a wide variety of disciplines. CCNY embraces its position at the forefront of social change. It is ranked #1 by the Harvard-based Opportunity Insights out of 369 selective public colleges in the United States on the overall mobility index. This measure reflects both access and outcomes, representing the likelihood that a student at CCNY can move up two or more income quintiles. Education research organization Degree Choices ranks CCNY #1 nationally among universities for economic return on investment. In addition, the Center for World University Rankings places CCNY in the top 1.8% of universities worldwide in terms of academic excellence. Labor analytics firm Emsi puts at $1.9 billion CCNY's annual economic impact on the regional economy (5 boroughs and 5 adjacent counties) and quantifies the "for dollar" return on investment to students, taxpayers and society. At City College, more than 15,000 students pursue undergraduate and graduate degrees in eight schools and divisions, driven by significant funded research, creativity and scholarship. This year, CCNY launched its most expansive fundraising campaign, ever. The campaign, titled "Doing Remarkable Things Together" seeks to bring the College's Foundation to more than $1 billion in total assets in support of the College mission. CCNY is as diverse, dynamic and visionary as New York City itself. View CCNY Media Kit.