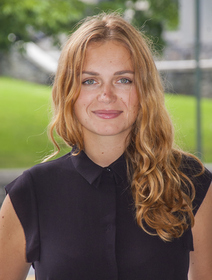 City College's fall semester intake includes Ukrainian journalist, activist and art lover Asia Bazdyrieva. She is one of fourFulbright Foreign Student Program recipients accepted at City College for graduate studies and research. 
Bazdyrieva will use her Fulbright to earn an MA in art history from CCNY's Division of the Humanities and the arts. "I want to teach art history in future and the degree will come in useful," she said.
She selected CCNY over other schools in the city and New Jersey because of its art course offerings.  
"I looked at the program and saw courses on 20th century art, the history of photography and everything else that I am interested in," said Bazdyrieva, who holds degrees in linguistics and analytical chemistry. 
The other incoming Fulbright foreign students and their majors are:
The four newcomers bring to seven the total number of foreign students at CCNY on Fulbright scholarships. Three other students -- Julian Erdem (Germany), Logman Arja (Sudan) and Indre Barsauskaite (Lithuania) -- are currently enrolled.
In addition to being a destination for Fulbright recipients from overseas, City College is a top producer of Fulbright scholars in the nation.
For information about the Fulbright Program at CCNY, please contact Linda L. Carlson at (212) 650- 8342 or lcarlson@ccny.cuny.edu.
About The City College of New York
Since 1847, The City College of New York has provided low-cost, high-quality education for New Yorkers in a wide variety of disciplines. More than 16,000 students pursue undergraduate and graduate degrees in: the College of Liberal Arts and Sciences;the Bernard and Anne Spitzer School of Architecture;the School of Education;the Grove School of Engineering;the Sophie Davis School of Biomedical Education, and the Colin Powell School for Civic and Global Leadership. U.S. News, Princeton Review and Forbes all rank City College among the best colleges and universities in the United States.