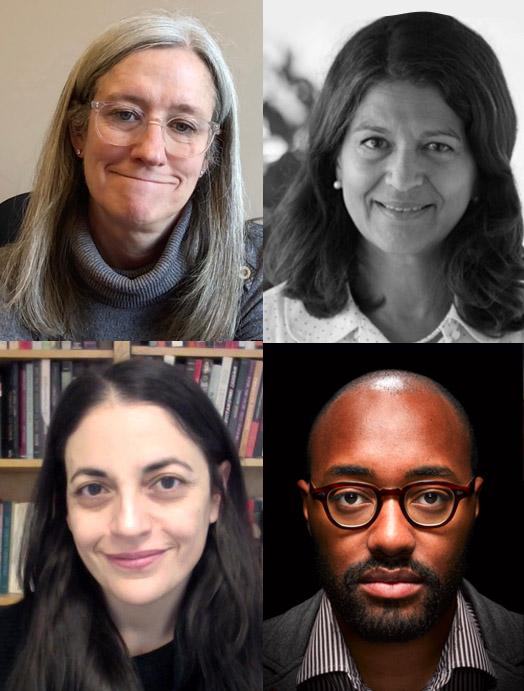 The Graduate Center, CUNY awarded four CCNY faculty BRES Fellowships. Clockwise from bottom left: Susanna Rosenbaum, Kathlene McDonald, Norma Fuentes-Mayorga, and Justin Williams.
Four CCNY faculty members were awarded Black, Race and Ethnic Studies (BRES) Fellowships by the Graduate Center, CUNY. Associate Professor of sociology Norma Fuentes-Mayorga and Associate Professor of history Justin Williams are being awarded BRES Research Faculty Fellowships. English Professor Kathlene McDonald and Associate Professor of Anthropology Susanna Rosenbaum are being awarded BRES Curriculum Development Faculty Fellowships.
 
The fellowship is designed to enhance Black, race and ethnic studies scholarship and teaching throughout CUNY schools, and is part of a $3 million Mellon Foundation-funded initiative Black, Race and Ethnic Studies Initiative (BRESI) at CUNY, which seeks to reimagine and expand University programs in Black, race and ethnic studies.
 
Williams was awarded for his work "A Talented Tenth: Afrocentrism, Gentrification, and Racial Uplift in Newark, New Jersey." McDonald and Rosenbaum proposed a graduate level course titled "Centering Care/Work in Black, Race, and Ethnic Studies."
Fellows will be affiliated with the BRES Collaboration Hub, a CUNY-wide, multidisciplinary initiative based at the Graduate Center.
 
A total of 65 people were awarded Fellowships including 20 CUNY Graduate Center doctoral students and 45 CUNY faculty. Stipends of $2,000 to faculty and $4,000 to students will be given out to support research, curriculum development projects, and dissertation research.
 
"We are excited that the Graduate Center will be the home for the BRES Collaboration Hub, which aims to catalyze innovative, collaborative research and education in Black, race and ethnic studies throughout CUNY," said Robin L. Garrell, president of the CUNY Graduate Center. "The BRES fellowship program is truly a University-wide effort, as reflected in the selection of faculty fellows from 16 CUNY campuses and doctoral fellows from 12 diverse academic programs spanning the humanities and social sciences. We are grateful for the generous support from the Mellon Foundation and CUNY for this historic, transformative initiative."
About the City College of New York
Since 1847, The City College of New York has provided a high-quality and affordable education to generations of New Yorkers in a wide variety of disciplines. CCNY embraces its position at the forefront of social change. It is ranked #1 by the Harvard-based Opportunity Insights out of 369 selective public colleges in the United States on the overall mobility index. This measure reflects both access and outcomes, representing the likelihood that a student at CCNY can move up two or more income quintiles. Education research organization Degree Choices ranks CCNY #1 nationally among universities for economic return on investment. In addition, the Center for World University Rankings places CCNY in the top 1.8% of universities worldwide in terms of academic excellence. Labor analytics firm Emsi puts at $1.9 billion CCNY's annual economic impact on the regional economy (5 boroughs and 5 adjacent counties) and quantifies the "for dollar" return on investment to students, taxpayers and society. At City College, more than 15,000 students pursue undergraduate and graduate degrees in eight schools and divisions, driven by significant funded research, creativity and scholarship. This year, CCNY launched its most expansive fundraising campaign, ever. The campaign, titled "Doing Remarkable Things Together" seeks to bring the College's Foundation to more than $1 billion in total assets in support of the College mission. CCNY is as diverse, dynamic and visionary as New York City itself. View CCNY Media Kit.