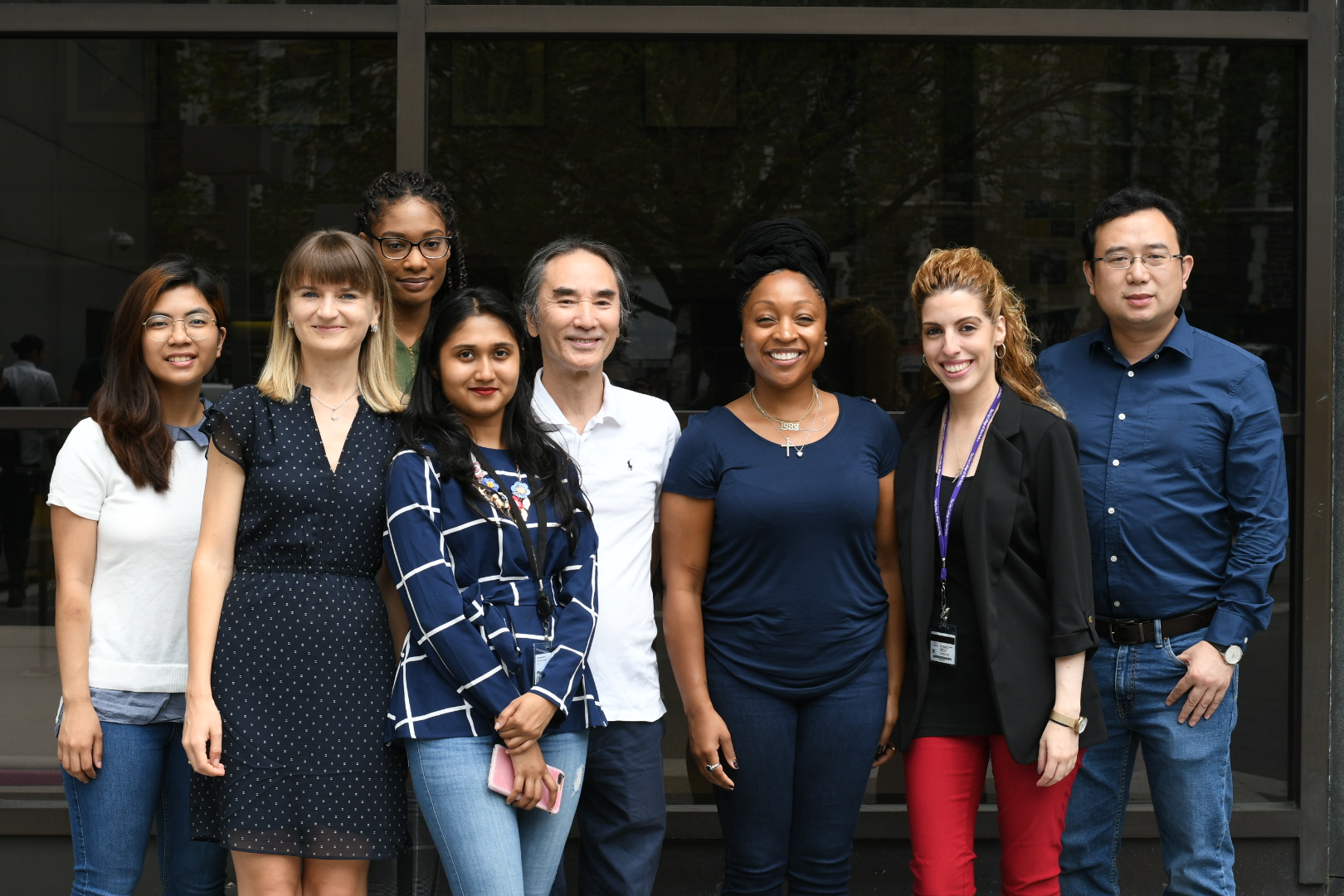 The Grove School of Engineering's Department of Computer Science collaborated with College Now and the Early College Program for a pipeline to college with help from Google. From left: Abigail Banting, Marina Skachko, Quetourah Dalencourt, Rezwana Kabita, Akira Kawaguchi​, Tiffany Jackson, Martha Hantzandreou and Zheng Peng. 
The Grove School of Engineering's Department of Computer Science at The City College of New York is creating a pipeline to college for female New York City high school students interested in computer science. The initiative is made possible by an $18,000 gift from Google and partnership with College Now and the Early College Program, which will help broaden the scope of women in STEM fields.
"This generous gift will enable us to work with ​our female students to create opportunities that help to recruit the next generation of a much more diverse tech workforce," said Akira Kawaguchi, chair of the Department of Computer Science.
CCNY student club members from WiCS (Women in Computer Science) will serve as program ambassadors and help create curriculum for the first cohort of high school students. Teaching assistants and CCNY computer science undergraduate students will organize and teach two Saturday workshops.
The first workshop will be held in October 2019, and the second will be held in October 2020. During these workshop sessions, students will experience a real-life college setting taught by their peers encouraging them to pursue a career path in STEM.
The initiative's goal is to shift the balance by building a deeper connection between high school and college, offering female high school students a future in computer science and other STEM career paths.
About the Grove School of Engineering
CCNY's Grove School of Engineering celebrates a century of educating engineers this year. Originally established as the School of Technology in 1919, it evolved to the School of Engineering in 1962 and was renamed The Grove School of Engineering in 2005 in honor of alumnus Andrew S. Grove, whose $26 million gift to the institution that year is the largest in CCNY's history. A distinguished member of CCNY's Class of 1960, Grove was a founder and former chairman of Intel Corp, one of the world's leading producers of semiconductor chips. Today, the Grove School remains the only public school of engineering in the heart of New York City.  

About The City College of New York
Since 1847, The City College of New York has provided a high quality and affordable education to generations of New Yorkers in a wide variety of disciplines. CCNY embraces its role at the forefront of social change. It is ranked #1 by the Harvard-based Opportunity Insights out of 369 selective public colleges in the United States on the overall mobility index. This measure reflects both access and outcomes, representing the likelihood that a student at CCNY can move up two or more income quintiles. In addition, the Center for World University Rankings places CCNY in the top 1.2% of universities worldwide in terms of academic excellence. More than 16,000 students pursue undergraduate and graduate degrees in eight professional schools and divisions, driven by significant funded research, creativity and scholarship. CCNY is as diverse, dynamic and visionary as New York City itself.