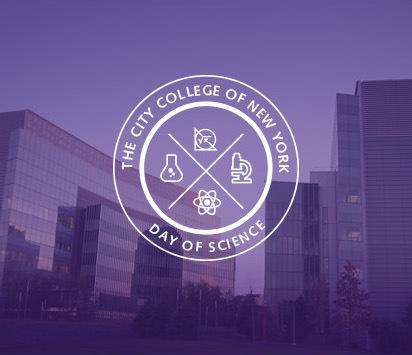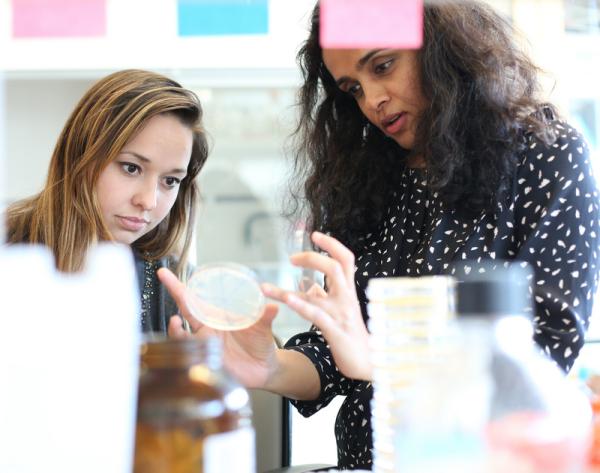 Biology professor Anu Janakiraman and a student. Janakiraman is one of the presenters at CCNY's inaugural Day of Science.
In its most recent annual rankings, U.S. News & World Report lists The City College of New York among the "Best Global Universities for Physics." The category recognizes institutions around the world that have shown strength in producing research in a wide range of topics related to physics, including  the study of matter and energy. On Thursday, April 11, City College provides a glimpse of its advances in that and other scientific fields when it presents its inaugural Day of Science.
Demonstrations, presentations and lab tours highlighting the diverse research by faculty in the Division of Science are part of the program, from 1 p.m. to 5:30 p.m., at three locations on the CCNY campus:
CCNY President Vincent Boudreau and Interim Provost Tony Liss, an internationally known physicist with research experience at the world's highest energy accelerators, will offer welcome remarks, before the program starts.
Six sessions by science faculty will run concurrently at the three aforementioned locations beginning at 2 p.m. Each session, an hour- long, repeats three times until 5:30 p.m. when V.P. Nair, Interim Dean of Science, offers closing remarks.
The sessions are [click here for faculty presenters, locations and to register]:
"Beauty and Order: in Nature and in the Abstract";
"Hurricanes, Volcanoes and Stars";
"Environmental Change and Life on the Edge";
"Infections, Genomes and Medicinal Chemistry";
"Quantum Walks and Harvesting Light"; and
"Listen and Learn: Auditory Circuits and Neural Networks."
"This is a celebration of our faculty and the role of CCNY in the world of science," said Nair. "Through a combination of faculty talks and lab tours we will highlight the cutting-edge research taking place in the
Division of Science."
Nair noted that in addition to CCNY's U.S. News & World Report ranking as one of the best global universities for physics, its high quality scientific research has also been recognized elsewhere. "We are listed in the `Doctoral Universities: High Research' category of the Carnegie Classification of Institutions of Higher Education, so our inaugural Day of Science provides an opportunity for us to showcase our best in research."
City College's science tradition spans generations. Since 1970 its Division of Science has produced nine of CCNY's 10 Nobel Prize Laureates. They are:
Julius Axelrod '33 (Medicine 1970);
Robert Hofstadter '35 (Physics 1961);
Jerome Karle '37 (Chemistry 1985);
Herbert A. Hauptman '37 (Chemistry 1985);
Arthur Kornberg '37 (Medicine 1959);
Kenneth Arrow '40 (Economics 1972);
Leon M. Lederman '43 (Physics 1988);
Arno A. Penzias '54 (Physics 1978); and
Robert J. Aumann '50 B.Sc. mathematics (Economics 2005);
John O' Keefe, who graduated in 1963 with a BA in psychology, is CCNY's other Nobel Laureate (Physiology or Medicine 2014).
For more information on the inaugural Day of Science, call 212.650.7799 or email events@ccny.cuny.edu .
About The City College of New York
Since 1847, The City College of New York has provided a high quality and affordable education to generations of New Yorkers in a wide variety of disciplines. CCNY embraces its role at the forefront of social change. It is ranked #1 by the Harvard-based Opportunity Insights out of 369 selective public colleges in the United States on the overall mobility index. This measure reflects both access and outcomes, representing the likelihood that a student at CCNY can move up two or more income quintiles. In addition, the Center for World University Rankings places CCNY in the top 1.2% of universities worldwide in terms of academic excellence. More than 16,000 students pursue undergraduate and graduate degrees in eight professional schools and divisions, driven by significant funded research, creativity and scholarship. CCNY is as diverse, dynamic and visionary as New York City itself.  View CCNY Media Kit.