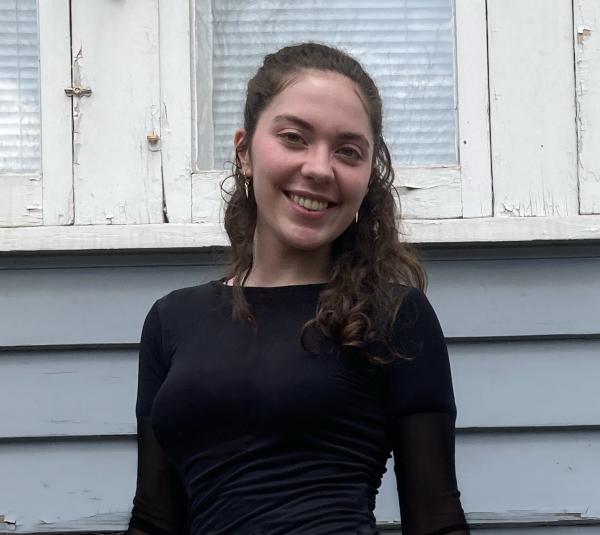 After four months of waiting, Katherine J. (Katie) Scardino is on her way to Mexico to start her nine-month Fulbright Scholarship.
The September 2022 graduate of the Colin Powell School for Civic and Global Leadership at The City College of New York, who majored in psychology and minored in Spanish, was first told that she had been awarded the prestigious scholarship in April, without any specifics. She received the notice of her placement on Aug. 10, giving her only three weeks to obtain her visa before leaving to take up her positions as an assistant to an English language professor and a leader of English conversation clubs at the Instituto Tecnológico de Oaxaca. In addition to her academic responsibilities, she will develop a personal project of fostering cross-cultural connections within the community.
Not that she has been idle for the past year. After graduation, she worked in retail management, then as a lead recovery coach at a mental health facility, in her hometown of Rochester, N.Y.
After CCNY, "I didn't really know what I wanted to do next," she said. "I was considering law school, when a few professors suggested that I apply for a Fulbright."
That would not have been too much of a stretch for someone who had already studied abroad, spoke Dutch and Spanish, captained the CCNY's women's fencing team, and was open to new experiences. She was originally accepted to a Spanish Language and Andean Culture program at the Universidad de San Francisco de Quito, Ecuador, for the Spring 2020 semester, but the COVID-19 pandemic prevented that opportunity. In her last semester, Spring 2023, she was presented with three options: Bogota, Colombia; Florence, Italy; and Logrono, Spain. She chose the latter for a pragmatic reason; she was offered a full scholarship with free tuition, flights, housing, books, and insurance, "as opposed to Bogota, which was $10,000," she said with a laugh.
Not having any expectations of Spain, she was enriched by her semester at the city's Universidad de La Rioja, where she studied Spanish language and culture.
One of Scardino's recommenders, Associate Professor of Iberian and Latin American Cultures Isabel Estrada, the director of the City College Fellowships Program, has no doubt about her former student's abilities.
"Katherine's intelligence, self-confidence and resourcefulness will allow her to thrive in an unfamiliar environment," Estrada wrote in her recommendation. "Through my discussions with Katherine about her teaching goals and potential community projects in Mexico, I have learned that she is a mature and culturally sensitive person. Her extensive trips abroad illustrate her intellectual curiosity and eagerness to deeply connect with the Spanish-speaking cultures that are integral to the fabric of the U.S."
Despite the long wait and the short notice, Scardino is ready to undertake her latest adventure.
"I am very excited to be placed in Oaxaca, which has a rich culture," she said. "It will be a great experience."
About The City College of New York
Since 1847, The City College of New York has provided a high-quality and affordable education to generations of New Yorkers in a wide variety of disciplines. CCNY embraces its position at the forefront of social change. It is ranked #1 by the Harvard-based Opportunity Insights out of 369 selective public colleges in the United States on the overall mobility index. This measure reflects both access and outcomes, representing the likelihood that a student at CCNY can move up two or more income quintiles. Education research organization Degree Choices ranks CCNY #1 nationally among universities for economic return on investment. In addition, the Center for World University Rankings places CCNY in the top 1.8% of universities worldwide in terms of academic excellence. Labor analytics firm Emsi puts at $1.9 billion CCNY's annual economic impact on the regional economy (5 boroughs and 5 adjacent counties) and quantifies the "for dollar" return on investment to students, taxpayers and society. At City College, more than 15,000 students pursue undergraduate and graduate degrees in eight schools and divisions, driven by significant funded research, creativity and scholarship. This year, CCNY launched its most expansive fundraising campaign, ever. The campaign, titled "Doing Remarkable Things Together" seeks to bring the College's Foundation to more than $1 billion in total assets in support of the College mission. CCNY is as diverse, dynamic and visionary as New York City itself. View CCNY Media Kit.