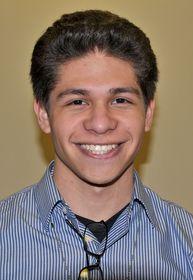 In the latest success by MCA students at City College, Ad/PR major Khaled Hassan has won a $5,000 scholarship from the Advertising Club of New York.
Scholarship adds to recent successes by MCA students
Khaled Hassan, an advertising and public relations major at The City College of New York, will receive the $5,000 Dana Anderson Scholarship from the Advertising Club of New Yorkat its 2014 awards ceremony Thursday, November 13, in Manhattan. The award is presented to a young deserving student in the field with a GPA of more than 3.2 GPA.  
 
This is the latest honor for Mr. Hassan and continues the outstanding success by students in City College's media and communication arts (MCA) department. This spring, the senior won a LAGRANT Foundation scholarship and was elected president of the Public Relations Student Society of America CCNY chapter.

Other recent MCA standouts whose excellence has earned them recognition in high profile programs and forums in the industry include:
Jerry Louis, an Ad/PR senior who has been accepted into the Most Promising Multicultural Students Program February 1-4, 2015, in Manhattan. A one-of-a-kind national event, the program connects the industry with top multicultural talent;
 
Amber Jackson, from MCA's Branding + Integrated Communications (BIC) graduate program, was a member of the ADCOLOR Futures Class of 2014. ADCOLOR is a national nonprofit organization that champions diversity in advertising and PR industries and helps students attend and gain insider experience at high profile events. Ms. Jackson was also a 2014 LAGRANT scholarship winner;
 
Luz Corona and Nehal Mahmoud, both BIC graduate program, and poster contest winners whose prize took them to "The 3% Conference" in San Francisco this month. The two-day event champions creative female talent and leadership in advertising. The title is a play on the estimated percentage of women creative directors in the profession.
About The City College of New York
Since 1847, The City College of New York has provided low-cost, high-quality education for New Yorkers in a wide variety of disciplines. More than 16,000 students pursue undergraduate and graduate degrees in: the College of Liberal Arts and Sciences; the Bernard and Anne Spitzer School of Architecture; the School of Education; the Grove School of Engineering; the Sophie Davis School of Biomedical Education, and the Colin Powell School for Civic and Global Leadership. U.S. News, Princeton Review and Forbes all rank City College among the best colleges and universities in the United States.
 
MEDIA CONTACT