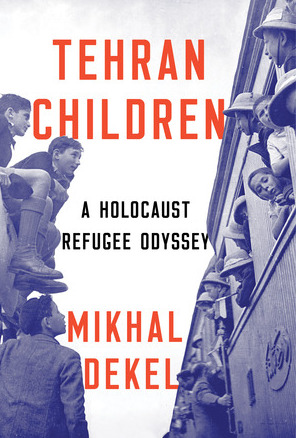 "Tehran Children" (W. W. Norton & Company; October 1, 2019), is the outcome of Dekel's decade-long research into the little documented escape of Polish Jews from Nazi extermination as refugees in the East and then to Israel via Iran.

The daughter of one of those young Holocaust survivors, Dekel's narrative is a gripping blend of memoir, history and travelogue. An English professor at City College and the Graduate Center, CUNY, Dekel's other books include "The Universal Jew: Masculinity, Modernity, and the Zionist Movement," and "Oedipus in Kishinev."

In "Moving Up without Losing Your Way" (Princeton University Press, 2019), CCNY philosophy professor Jennifer Morton spotlights the ethical and emotional tolls paid by disadvantaged college students seeking upward mobility and what educators can do to help these students flourish.

Peruvian-born and Princeton educated, Morton bases some of her thesis on her experience teaching at CUNY and as a first-generation college student herself. Morton talked about the book with Inside Higher Education and has published opinion pieces in The Chronicle of Higher Education, the New York Daily News and Vox.

In its 2020 Best Colleges rankings, U.S. News & World Report ranks CCNY #17 nationally as a top performer on social mobility.

Other new and forthcoming titles from CCNY writers include:
 
"La Estructura del Español," by Silvia Burunat, Angel L Estevez and Carlos Riobo, all faculty in the department of Classical and Modern Languages & Literatures (Division of Humanities and the Arts);
 
 "Archaeology below the Cliff: Race, Class, and Redlegs in Barbadian Sugar Society," by Matthew C. Reilly, assistant professor, Colin Powell School for Civic and Global Leadership;
 
 "A World Divided The Global Struggle for Human Rights in the Age of Nation-States," by Eric D. Weitz, Distinguished Professor of History;

About The City College of New York
Since 1847, The City College of New York has provided a high quality and affordable education to generations of New Yorkers in a wide variety of disciplines. CCNY embraces its role at the forefront of social change. It is ranked #1 by the Harvard-based Opportunity Insights out of 369 selective public colleges in the United States on the overall mobility index. This measure reflects both access and outcomes, representing the likelihood that a student at CCNY can move up two or more income quintiles. In addition, the Center for World University Rankings places CCNY in the top 1.2% of universities worldwide in terms of academic excellence. More than 16,000 students pursue undergraduate and graduate degrees in eight professional schools and divisions, driven by significant funded research, creativity and scholarship. CCNY is as diverse, dynamic and visionary as New York City itself. View CCNY Media Kit.