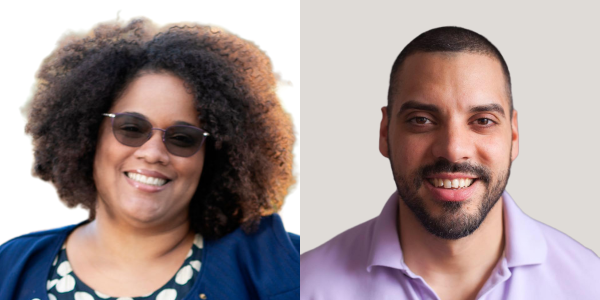 Jennifer Disla and Chris Torres are Leadership for Democracy & Social Justice's first Co-Executive Directors.
Leadership for Democracy and Social Justice, a new CUNY Institute, is proud to announce it has chosen its first Co-Executive Directors: Jennifer Disla and Chris Torres. The pair was selected after a months-long search to lead this national initiative, which will train and support a large cadre of strong, diverse, connected leaders who are capable of thinking across boundaries, developing imaginative new approaches to old problems, and managing and executing large-scale change.
"At a time of unprecedented threats to democracy and intense backlash to social progress, we can think of no more urgent need than to be developing leaders from our communities who have all the wisdom, talent, and knowledge needed to lead large-scale movements for change," said Co- Executive Directors Jennifer Disla and Chris Torres. "We are thrilled to step into this role and establish this institute as a movement home, where thousands of social justice leaders working at the forefront of labor, immigrants' rights, climate justice, reproductive justice, and gender and racial equity can hone their skills and build a community to imagine and execute powerful, long-term strategies to win."
Disla and Torres both have roots in working communities and this informed their understanding of the importance of organizing people to build power and change. The co-leaders are experienced, engaged, and impactful longtime organizers who know how to build and scale large movements for social justice. Their experience spans political, labor, and community organizing campaigns that have won victories for working class people, immigrants, and BIPOC communities, Disla most recently as the Co-Executive Director of Detroit Action, and Torres most recently as the Political Director of MoveOn. Their full bios can be found below. 
"Jennifer and Chris bring a stellar track record of organizing, leading, and developing others around them in social justice movements - exactly the qualities we were searching for in the leaders of this new institute. Through the work we have done at Rockwood developing thousands of social justice leaders, I know how important and how challenging this work can be. I am so excited to have Jennifer and Chris as partners in building a strong, connected, large-scale leadership development pathway and lifting up even more BIPOC, working-class, LGBTQIA+, and immigrant leaders for social justice movements," said Chief Executive Director of Rockwood Leadership Institute Darlene Nipper, who served on the Selection Committee for the new leaders. 

Leadership for Democracy and Social Justice is an initiative created to fill a gap in current leadership training in social justice movements and provide a long-term home for training and research in social justice leadership. LDSJ's national-level programming is based on extensive research about leadership development and needs across dozens of organizations and movements. Its advisory board represents a cross section of leaders in labor organizing, civil rights, racial justice, environmental protection, and local and national-level organizing, including the executive directors and founders of more than a dozen leading national advocacy and campaign organizations.

Gara LaMarche, Co-Chair, and Deepak Bhargava, Co-Chair and Distinguished Lecturer at CUNY School of Labor and Urban Studies, said, "When we created this institute, we envisioned supporting diverse cohorts of leaders from the communities at the forefront of social justice movements, who can build collective power that can be wielded anywhere, from the streets to the halls of Congress. Jennifer and Chris are exactly the leaders who can realize this vision. From their roots in BIPOC immigrant and working-class communities, to their ability to lead large-scale, impactful movements for social change, to their demonstrated commitment to leadership development, they have all the qualities, vision, and experience we are seeking to establish the institute and take it to the scale we envision."  

"Leadership for Democracy and Social Justice is unique in how it marries social justice practice with academic theory from a home within the City University of New York, the largest and most diverse public urban university system in the nation. We are teaching a student body that is primarily first-generation, working-class, BIPOC and immigrant. Our students come from communities that have all too often been denied power, and the new institute helps prepare them to take power and to become leaders for social change," said Andy Rich, Dean of the Colin Powell School for Civic and Global Leadership at The City College of New York. "We are thrilled to welcome Jennifer and Chris to lead the institute as we develop a curriculum that addresses power and strategy, the history of social movements, and social and economic policy – all of which will be enhanced by Jennifer and Chris's wide-ranging movement and academic experience."   

Jessica Barba Brown, Launch Executive Director, said, "In this pilot year, we have laid a strong foundation for the institute, hiring a stellar staff, launching two pilot cohorts for early and mid-career leaders, providing mentorship and career empowerment support, and testing key theories about what kind of programming is needed to address the diverse and interconnected needs and challenges today's social justice leaders face. I know that under Jennifer and Chris's leadership, the institute is in excellent hands and am thrilled for them to take this work to the next level." 
About Jennifer Disla
Jennifer Disla has deep roots in immigrant working communities. Her parents immigrated from the Dominican Republic and she witnessed how her father's union status allowed her access to resources and spaces that were barred from her cousins and peers. She started organizing in 2008 with the Healthcare for America Now Campaign in Missouri. She continued her career in organizing afterwards as a Labor Organizer. During her time working with SEIU Local 1, she fought with the Black janitors, faith leaders, and responsible shareholders to demand union wages and union protections in the Express Scripts facility. They gained victory and janitors were able to have a fair wage and benefits as well union protection to sustain themselves and their families. As the co-Executive Director of Detroit Action, she was responsible for fundraising and executing a multimillion-dollar operating budget to build strong housing, jobs, economic and transformative justice campaigns. She led the organizing team to engage over 20,000 Detroiters ready to take action since the 2020 election. Jen is a contributing author to an upcoming textbook called Be the Change and you can find her strategic reflections in Convergence Magazine.  
About Chris Torres
Chris Torres has over 15 years' experience as a community organizer, electoral campaigner, and movement strategist. He's worked for a variety of progressive organizations and electoral campaigns including Community Change Action, The Industrial Areas Foundation, New Organizing Institute, The Working Families Party, National Immigration Forum, and United We Dream. He got his start organizing on the political campaigns for U.S. Senator Sheldon Whitehouse (RI) and former President Barack Obama. Most recently, Chris served as MoveOn's Political Director where he mobilized voters, small-dollar donations, and endorsements to elect progressive candidates and to advance public policy. Chris is dedicated to strengthening the progressive movement. In addition to his work, he serves on the board of the Alliance for Justice, is a trainer with the Leading Change Network, and is a master's student at the CUNY School of Labor & Urban Studies (SLU).
About the CUNY School of Labor and Urban Studies
The CUNY School of Labor and Urban Studies, established in 2018, is explicitly dedicated to public service and social justice. Offering the only interdisciplinary curriculum in labor and urban studies in the nation, SLU awards undergraduate and graduate degrees in those fields, as well as credit-bearing professional certificates in areas such as public administration, public policy, health care administration, and labor relations.  SLU also collaborates with New York City's labor unions and other CUNY schools to offer a broad range of college-credit programs designed to give workers the academic and technical skills they need for professional advancement and economic mobility. 
About the Colin Powell School for Civic and Global Leadership
Established in April 2013, the Colin Powell School is home to the social science departments at CCNY as well as the core leadership development and public service programs of the College. With almost 4,000 students, and graduating the most CCNY students annually, the Colin Powell School's mission is to transform the nation's most diverse student body into tomorrow's global leaders. Half of our students are immigrants; most come from lower income backgrounds. More than seventy percent are first-generation college students, and eighty percent are people of color. The Colin Powell School and City College remain among the most effective engines of economic and social mobility in the United States. The School is led by a faculty dedicated to the highest standards of research and to the university's democratic and public obligations. 
About the City College of New York
Since 1847, The City College of New York has provided a high-quality and affordable education to generations of New Yorkers in a wide variety of disciplines. CCNY embraces its position at the forefront of social change. It is ranked #1 by the Harvard-based Opportunity Insights out of 369 selective public colleges in the United States on the overall mobility index. This measure reflects both access and outcomes, representing the likelihood that a student at CCNY can move up two or more income quintiles. In addition, the Center for World University Rankings places CCNY in the top 1.8% of universities worldwide in terms of academic excellence. Labor analytics firm Emsi puts at $1.9 billion CCNY's annual economic impact on the regional economy (5 boroughs and 5 adjacent counties) and quantifies the "for dollar" return on investment to students, taxpayers and society. At City College, more than 16,000 students pursue undergraduate and graduate degrees in eight schools and divisions, driven by significant funded research, creativity and scholarship. CCNY is as diverse, dynamic and visionary as New York City itself.