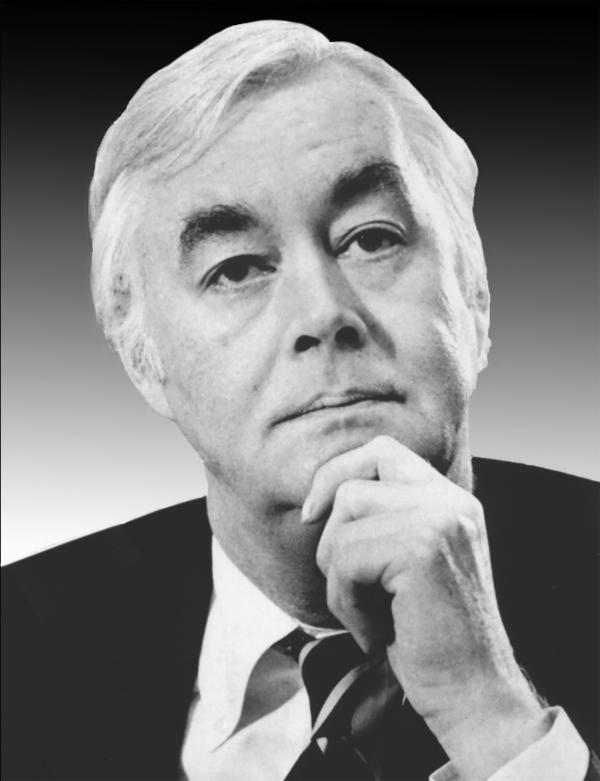 Daniel Patrick Moynihan (1927-2003)
Tributes were paid to diplomat, statesman, professor and public intellectual Daniel Patrick Moynihan by some of his famous disciples as the Daniel Patrick Moynihan Center was formally inaugurated at The City College of New York's Great Hall.
Launched in February 2023, the Moynihan Center supports new leaders to make a difference in public affairs. Through two signature fellowship programs and a rich slate of public events, the Center ensures that the next generation of public scholars and public servants reflects the diversity of viewpoints and lived experiences represented at The City College.
The Center takes its name and inspiration from the long-serving Senator's celebrated career, which began when he attended CCNY as an undergraduate in 1943, before joining the US Navy. He subsequently earned a doctorate in history from Tufts University, taught at Harvard University, and served in four presidential administrations (Kennedy, Johnson, Nixon and Ford), including ambassadorships to the United Nations and to India, before being elected in 1976 to the first of four terms in the U.S. Senate.
This event also gathered the inaugural cohorts of the four Moynihan Public Scholars, the four Moynihan Leaders-in-Residence and Postdoctoral Fellows, and the 28 Moynihan Undergraduate Fellows together for the first time.
The Undergraduate Fellows were introduced by Associate Professor of Political Science Carlo Invernizzi Accetti, the Moynihan Center's executive director, as "some of the best and brightest minds here on the campus with an ambition for public service and intellectual leadership."
The Moynihan Public Service Fellowship supports promising undergraduate students pursuing innovative careers in public service. The fellows pursue one of two tracks, Public Service Innovators or New York City Leaders. They receive awards totaling $10,000, take two elective courses dedicated to professional development and public service, and participate in a paid summer internship in city government or in another public service institution.
"Our hope is that the Moynihan of the future will be forged out of the interaction between these two groups of fellows, as well as the broader ecosystem of leadership, development and public discussion that they will help to forge on campus," said Invernizzi Accetti.
"The ability to use the resources and the intellectual capital of the university in public life and the willingness to engage in debate so fundamental to this institution are two elements of Senator Moynihan's life that are so fundamental to that generation of leaders of which he was a leader," City College President Vincent G. Boudreau said in his opening remarks. "The positioning of an institution like City College in the resolution of the most important public problems that we face are united in this center. And so, it is a great honor to be able to welcome you to the inauguration of the Moynihan Center at City College."
"We are excited and immensely proud to celebrate the legacy of one of New York's most revered public servants with a program that goes to the heart of CUNY's own legacy of opening doors to people of all backgrounds and advancing the civic good," said City University of New York Chancellor Félix V. Matos Rodríguez. "The Moynihan Center and its inaugural group of scholars, leaders and students represent a critical value of higher education —not only rigorously preparing our students for career success but also graduating scholars who are well-informed, socially aware and actively engaged with the world."
U.S. Rep. Adriano Espillat (D-N.Y.) noted the presence of his predecessor in Congress, former U.S. Rep. Charles Rangel (D-N.Y.), for whom the College's Charles B. Rangel Infrastructure Workforce Initiative is named.
"And now we have the Moynihan Center, [the second of] two important incubators of thought and action," Espillat said. "It's important for this neighborhood and for the city to have both of them. I think there is a great need for public debate and public policy. I think we've forgotten to take the deep dives that are necessary to develop good public policy, which is the backbone of smart projects."
New York Gov. Kathy Hochul, who served on the Senator's staff in the 1980s before seeking elective office herself, noted that Moynihan "had a remarkable life, starting with nothing. When you met him later, you just assumed he came from great wealth and prestige and prominence because look how he behaved. He used to shine shoes in Hell's Kitchen, used to lug around bags of potatoes. And you know what changed his life? This institution changed his life. It gave him a chance to understand what formal education was like, to push himself, to see other people who wanted to make themselves better by showing up in a classroom."
A former Moynihan transportation and public works legislative aide, U.S. Department of Transportation Deputy Secretary and Acting Federal Aviation Administrator Polly Trottenberg, a former New York City transportation commissioner, reflected on the late Senator's love of cities.
"That's what drove him to shepherd through what became one of the most influential pieces of transportation legislation in American history [the Intermodal Surface Transportation Efficiency Act of 1991]," she said. "He started the process of steering more dollars to mass transit, and really turning the page in American transportation policy, starting to make it smarter and greener and more equitable. He really did see cities as laboratories and places where we could see progress and make great policy. And I know you're going to get to do that here at City College."
The evening's keynote address was delivered by Lawrence O'Donnell, host of MSNBC's "The Last Word with Lawrence O'Donnell." He started as the senator's 1988 re-election campaign's communications director before becoming a senior adviser. He then proceeded to become chief of staff of the Senate Committee on the Environment and Public Works, and chief of staff of the Senate Finance Committee.
O'Donnell recalled advising Moynihan to announce his bid for re-election in front of Benjamin Franklin High School in Harlem.
"Maybe, just maybe, some of the students looking out the window that day at the tall, white-haired man, speaking to a small crowd of reporters, saw in him how far they could go in this world," he said.
"He would be so happy that the highest-ranking member of the Moynihan staff alumni is now the governor of the great state of New York, and that she was here at City College for the inauguration of the Moynihan Center," he said. "He would be so happy that 20 years from now, 30 years from now, 50 years from now, the phrase 'Moynihan alumni' will mean you and everyone who comes after you through this Center."
About The City College of New York
Since 1847, The City College of New York has provided a high-quality and affordable education to generations of New Yorkers in a wide variety of disciplines. CCNY embraces its position at the forefront of social change. It is ranked #1 by the Harvard-based Opportunity Insights out of 369 selective public colleges in the United States on the overall mobility index. This measure reflects both access and outcomes, representing the likelihood that a student at CCNY can move up two or more income quintiles. Education research organization Degree Choices ranks CCNY #1 nationally among universities for economic return on investment. In addition, the Center for World University Rankings places CCNY in the top 1.8% of universities worldwide in terms of academic excellence. Labor analytics firm Emsi (now Lightcast) puts at $1.9 billion CCNY's annual economic impact on the regional economy (5 boroughs and 5 adjacent counties) and quantifies the "for dollar" return on investment to students, taxpayers and society. At City College, more than 15,000 students pursue undergraduate and graduate degrees in eight schools and divisions, driven by significant funded research, creativity and scholarship. This year, CCNY launched its most expansive fundraising campaign, ever. The campaign, titled "Doing Remarkable Things Together" seeks to bring the College's Foundation to more than $1 billion in total assets in support of the College mission. CCNY is as diverse, dynamic and visionary as New York City itself. View CCNY Media Kit.