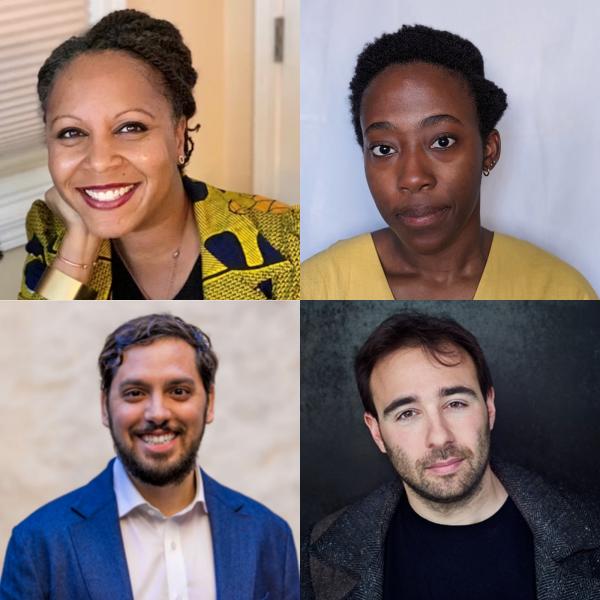 The 2023–24 Moynihan Public Scholars (clockwise from top left): Christina Greer, Daphne Lundi, Yascha Mounk, and Laurence Pevsner.
The Daniel Patrick Moynihan Center of the Colin Powell School for Civic and Global Leadership at The City College of New York has announced its inaugural cohort of the Moynihan Public Scholars Fellowship.
The four 2023–24 Moynihan Public Scholars and their projects are:
Christina Greer, associate professor of political science at Fordham University, who will work on a comprehensive history of African American electoral leadership in New York City and New York State;
Daphne Lundi, deputy director for Living Streets & Public Spaces at the New York City Mayor's Office of Climate and Environmental Justice (OCEJ), who will leverage her experience as an urban planner, policymaker, artist, and designer to develop a framework for how science fiction writing can and should inform city planning;
Yascha Mounk, professor of the practice of international affairs at Johns Hopkins University known for his work on the crisis of democracy and the defense of philosophically liberal values, who will develop a left-liberal critique of the identitarian turn in Western liberal democracies; and  
Laurence Pevsner, director of speechwriting for United States Ambassador to the United Nations Linda Thomas-Greenfield, who will explore how public apologies shape our politics and our lives, and make the case for why the world needs to get better at saying sorry, through a series of essays culminating in a book project.
Each Moynihan Public Scholar will receive an unrestricted award of up to $100,000 and will spend one year at CCNY writing, teaching, and engaging in public conversations on critical issues in public affairs. The Fellowship is administered by the Daniel Patrick Moynihan Center, which was established in 2023 with the purpose of supporting new leaders to make a difference in public affairs.
"The Moynihan Public Scholars will bring the Moynihan Center to life, and they will bring new intellectual and instructional energy to all corners of the Colin Powell School. We welcome their energy, ideas, and mentorship of our students, so many of whom are hungry to find their own paths to public service leadership," said Andrew Rich, the Richard J. Henley and Susan L. Davis Dean of the Colin Powell School.
"This inaugural cohort exemplifies the Moynihan Center's commitment to bold ideas, open debate, and scholarship that serves the public interest," said the program's executive director, Professor of Political Science Carlo Invernizzi Accetti.
"The Moynihan Public Scholars will demonstrate that rigorous research, public service, and popular communication can and must go hand in hand," said Distinguished Lecturer of Political Science Michael Miller, the managing director of the Moynihan Center.
The Moynihan Public Scholars program is made possible with generous support from the Leon Levy Foundation and the Achelis & Bodman Foundation.
About the Moynihan Center
The Daniel Patrick Moynihan Center at The City College of New York (CCNY) advances the twin goals of public scholarship and public service. Taking inspiration from Senator Moynihan's celebrated career, the Center cultivates leaders who cross the boundaries between critical thinking, public service practice, and popular communication. Through signature fellowship programs and a rich slate of public events, the Center works to ensure that the next generation of public scholars and public servants reflects the diversity of viewpoints and lived experiences represented at City College and beyond.
About the Colin Powell School for Civic and Global Leadership
Established in 2013, the Colin Powell School is home to the social science departments at CCNY as well as the core leadership development and public service programs of the College. With almost 4,000 students, and graduating the most CCNY students annually, the Colin Powell School mission is to transform the nation's most diverse student body into tomorrow's global leaders. Half of our students are immigrants; more than seventy percent are first-generation college students. Eighty percent are people of color. Most come from lower income backgrounds. The Colin Powell School and City College remain among the most effective engines of economic and social mobility in the United States. The School is led by a faculty dedicated to the highest standards of research and to the university's democratic and public obligations. Read more about the Colin Powell School.
About the City College of New York
Since 1847, The City College of New York has provided a high-quality and affordable education to generations of New Yorkers in a wide variety of disciplines. CCNY embraces its position at the forefront of social change. It is ranked #1 by the Harvard-based Opportunity Insights out of 369 selective public colleges in the United States on the overall mobility index. This measure reflects both access and outcomes, representing the likelihood that a student at CCNY can move up two or more income quintiles. Education research organization Degree Choices ranks CCNY #1 nationally among universities for economic return on investment. In addition, the Center for World University Rankings places CCNY in the top 1.8% of universities worldwide in terms of academic excellence. Labor analytics firm Emsi puts at $1.9 billion CCNY's annual economic impact on the regional economy (5 boroughs and 5 adjacent counties) and quantifies the "for dollar" return on investment to students, taxpayers and society. At City College, more than 15,000 students pursue undergraduate and graduate degrees in eight schools and divisions, driven by significant funded research, creativity and scholarship. This year, CCNY launched its most expansive fundraising campaign, ever. The campaign, titled "Doing Remarkable Things Together" seeks to bring the College's Foundation to more than $1 billion in total assets in support of the College mission. CCNY is as diverse, dynamic and visionary as New York City itself. View CCNY Media Kit.