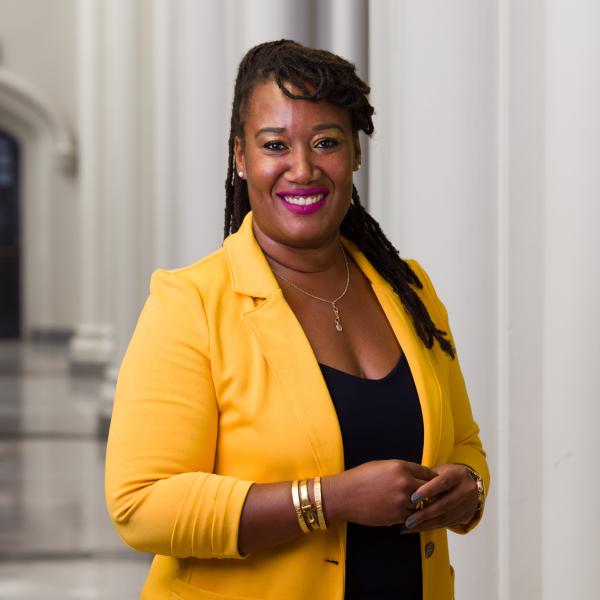 Professor Jervette R. Ward takes the helm of the Black Studies Program at CCNY's Division of Humanities and the Arts. Previously, she was a tenured professor of English at Mississippi State University.
The City College of New York has appointed Dr. Jervette R. Ward director of the Black Studies Program in the Division of Humanities and the Arts.
 
After a national search, Dean Renata Kobetts Miller said, "As President of CLA (College Language Association), Jervette comes to City College as a leader in the profession. We're thrilled to have her directing City College's historic Black Studies Program, and we're looking forward to some exciting developments in the months and years ahead."
 
Ward writes, teaches, and speaks on the power of language and popular culture as avenues for social change. Since 2018, Ward has been a tenured associate professor of English at Mississippi State University (MSU). Prior to that she was an associate professor of English at the University of Alaska Anchorage (UAA) where she earned tenure in 2018. Her academic career started at Pine Manor College, in Chestnut Hill, Mass., as an assistant professor of English, multicultural literature, in 2011 and at The University of Memphis as an adjunct instructor, teaching & research assistant from 2007-2011.
 
She attended The University of Memphis where she earned her B.A. (2004) in journalism, cum laude, her M.A. (2009) in English, American Literature, a Graduate Certificate in African American Literature (2009), and her Ph.D. (2011) in English–Literary & Cultural Studies.
 
Ward is the editor of "Real Sister: Stereotypes, Respectability, and Black Women in Reality TV" (Rutgers University Press, 2015). Her forthcoming book, "Black Women vs. Everybody: An Intellectual Tradition of Great Debates" (The Ohio State University Press), argues that Black women have boldly and courageously sought to affirm their own humanity while simultaneously arguing for the humanity of others in a variety of arenas including literature, politics, music, and popular culture.
 
Her dedication to CLA, the oldest and largest organization for Black scholars of languages and literature in the country, is apparent in her previous appointments as vice president for two years and, prior to that, as director of public relations. One of her many responsibilities as president is overseeing the management of CLAJ, the peer-reviewed academic journal.
 
Ward is a member of the Modern Language Association (MLA) Nominating Committee and is a former Chair of the Languages, Literatures, and Cultures African American Forum. Her most recent presentation was at the MLA Convention in Washington, D.C. in 2022 as a panelist at the "Black Archives and the Future" Roundtable.
 
She also took part as a panelist in the "What Do We Do Now That We Have Posted Our BLM Statement?" Roundtable at the American Studies Association (ASA) in New Orleans in 2022.
 
Among her many accolades, she was a William Winter Scholar at MSU in 2020, and a member of the MSU Faculty Leadership Program in 2019–20. While at UAA, in 2017, she earned a Faculty Award from the Elizabeth Tower Endowment for Canadian Studies, secured public speaker funding from the same endowment, and was given the Clay Nunnally Teaching Award from the Department of English.
 
Ward began her post at CCNY on August 25, 2023.
 
About the City College of New York
Since 1847, The City College of New York has provided a high-quality and affordable education to generations of New Yorkers in a wide variety of disciplines. CCNY embraces its position at the forefront of social change. It is ranked #1 by the Harvard-based Opportunity Insights out of 369 selective public colleges in the United States on the overall mobility index. This measure reflects both access and outcomes, representing the likelihood that a student at CCNY can move up two or more income quintiles. Education research organization Degree Choices ranks CCNY #1 nationally among universities for economic return on investment. In addition, the Center for World University Rankings places CCNY in the top 1.8% of universities worldwide in terms of academic excellence. Labor analytics firm Emsi puts at $1.9 billion CCNY's annual economic impact on the regional economy (5 boroughs and 5 adjacent counties) and quantifies the "for dollar" return on investment to students, taxpayers and society. At City College, more than 15,000 students pursue undergraduate and graduate degrees in eight schools and divisions, driven by significant funded research, creativity and scholarship. This year, CCNY launched its most expansive fundraising campaign, ever. The campaign, titled "Doing Remarkable Things Together" seeks to bring the College's Foundation to more than $1 billion in total assets in support of the College mission. CCNY is as diverse, dynamic and visionary as New York City itself. View CCNY Media Kit.