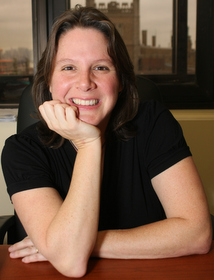 CCNY biologist Ana Carnaval will be the next speaker in the College's "Presidential Conversations" series, Thursday, February 5, 2015.
The "Presidential Conversations: Activism, Scholarship, and Engagement," series at The City College of New York continues in 2015. Dr. Ana Carnaval, assistant professor of biology at CCNY whose research has helped develop a new biodiversity metric called "phylogeographic endemism," is the third speaker in the series, Thursday, February 5, 4 – 5:30 p.m. in Shepard 250. Her topic will be "Integrating Biology and Environmental Sciences to Understand Biodiversity Patterns in the Tropics."  
The other scheduled speakers in the spring are:
Dr. Andrea Weiss, Media and Communication Arts, "Bones of Contention: Research toward a Documentary Film on the Historical Memory Debates in Spain" (Thursday, March 19, 2015);
 
Distinguished Professor Myriam Sarachik, Physics, "Advocating for Women in Science; Advocating for the Human Rights of all Scientists" (Thursday, April 23, 2015).
"Presidential Conversations" is a forum that features City College faculty members in conversation with CCNY PresidentLisa S. Coico and audience members about scholarship. It debuted this fall with architectural historian Dr. Marta Gutmanas the first guest. She discussed her book, "A City for Children: Women, Architecture, and the Charitable Landscapes of Oakland, 1850-1950" (University of Chicago Press, September 2014).

Dr. Terri N. Watson, from CCNY's School of Education, was the second speaker, December 4. Her topic was "No Child Left Behind: A Harlem Tale."

About The City College of New York
Since 1847, The City College of New York has provided low-cost, high-quality education for New Yorkers in a wide variety of disciplines. More than 16,000 students pursue undergraduate and graduate degrees in: the College of Liberal Arts and Sciences; the Bernard and Anne Spitzer School of Architecture; the School of Education; the Grove School of Engineering; the Sophie Davis School of Biomedical Education, and the Colin Powell School for Civic and Global Leadership. U.S. News, Princeton Review and Forbes all rank City College among the best colleges and universities in the United States.
 
MEDIA CONTACT