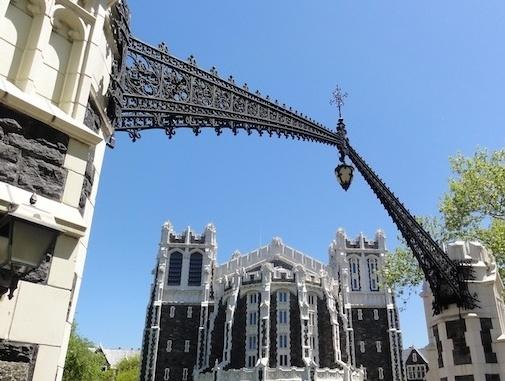 As winter session comes to an end, City College of New York's finest are gearing up for the spring.  From policy issues to technical courses on coding, City College students have an abundance of new and unique courses to choose from.
A select list of spring courses follows:
The Bernard and Anne Spitzer School of Architecture offers advanced studios, like Broadway: A Kind of Animated Mirror, to their M Arch II, third-year M Arch, and fourth- and fifth- year B Arch students.
Immigration and the 2d Generation and Migration and the Law, from The Colin Powell School for Civic and Global Leadership, both deal with policy issues related to sociology and political science. 
As part of the School of Education's Multilingual Learner Project, a course in Theories, Policies, and Programs for Emergent Bilingual Students is being taught; and courses for two online programs are being offered for certified teachers interested in seeking NYS certification for Students with Disabilities Grades 1-6 and Students with Disabilities Grades 7-12.
The Division of Humanities and the Arts' Department of Music will offer Film Scoring, which is being taught for the first time and is designed to teach musicians how to score music for film and video.
The Imprisoned: Artists Examine Mass Incarceration in the US, offered by the Division of Interdisciplinary Studies Center for worker Education, focuses on how artists are using their artistic practices to illuminate the day-to-day lives of those in prison as a way to call for much needed change in 21st century prison culture.
The Department of Earth and Atmospheric Sciences in the Division of Science offers Satellite Meteorology, which will cover meteorological satellite orbits, instrumentation, atmospheric remote sensing and weather and climate research.
Continuing and Professional Studies offers Advanced Coding Concepts that teaches students to create and maintain a full-featured website, advanced coding skills in software programs and app development.
For more information about City College's undergraduate and graduate courses, please visit the college website to view the courses in each major and to choose from more than 50 programs as well as certificate programs.
About The City College of New York
Since 1847, The City College of New York has provided low-cost, high-quality education for New Yorkers in a wide variety of disciplines. More than 15,000 students pursue undergraduate and graduate degrees in eight professional schools and divisions. View CCNY Media Kit.