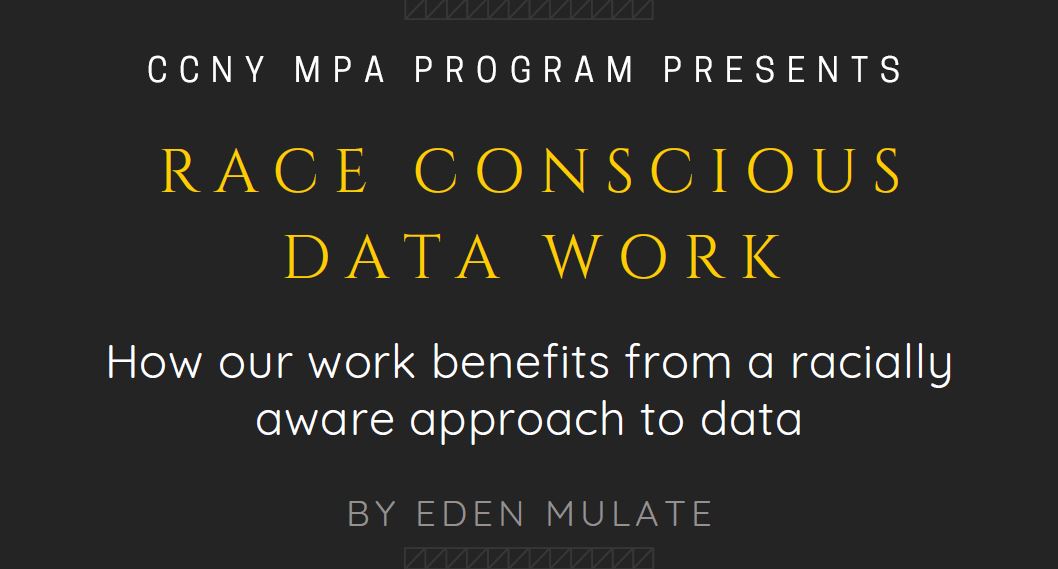 On April 5, the MPA Program hosted a presentation and discussion led by alumna Eden Mulate (MPA '18) titled Race Conscious Data Work: How Our Work Benefits from a Racially Aware Approach to Data.
The topic grew out of the intersection of Mulate's work as a racial justice advocate and her career as an analyst at the NYC Office of Management and Budget (OMB). 
Mulate's presentation opened with an analysis of the historical stages of systems of racist oppression in the United States. It subsequently displayed data illustrating multiple dimensions of racial inequality in health, housing, education, the economy, and carceral institutions in the context of the evolving systems of racial oppression and struggles for liberation that have shaped US history.
After laying that groundwork, Mulate's analysis deepened as she demonstrated how ostensibly race-neutral data can obscure important dimensions of racism, whereas a racially aware approach can harness data as a tool for racial justice.
In the ensuing discussion, Mulate and the participants delved into diverse aspects of her analysis and outlined specific ways that we all can incorporate and implement a racial justice lens into the use of data in our workplaces. 
Participants in the workshop included current students, alumni, staff, and faculty members of the MPA Program.