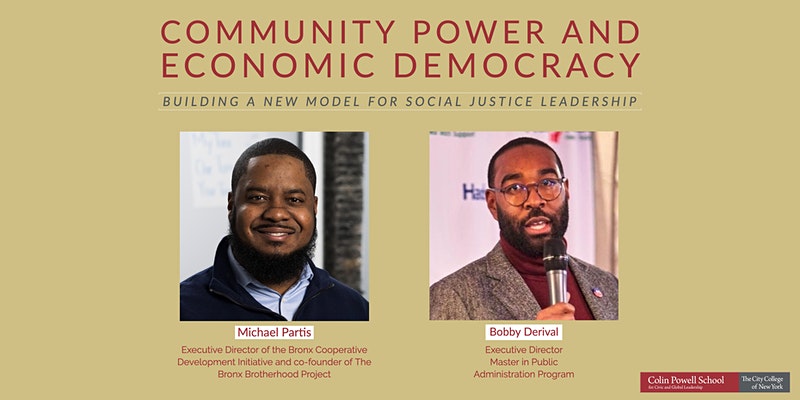 Last week, the MPA Program hosted a public event titled Community Power and Economic Democracy: Building a New Model for Social Justice Leadership. 
The event featured a conversation between Bobby Derival, the executive director of the MPA Program, and Michael Partis, the executive director of the Bronx Cooperative Development Initiative.
The two leaders explored how leadership development programs can support social movements working to deepen democratic structures and disrupt inequality through community ownership and self-determination.
They also discussed the central institutions and principles of economic democracy, including the collective ownership and democratic governance of key productive assets and economic policies, including land, finance, the workforce, economic zoning, and public contracts.
BCDI collaborates with a broad network of grassroots organizations in the Bronx to promote economic democracy. 
The MPA Program at CCNY prepares students to lead and manage social-mission-driven organizations with an emphasis on social justice, interdisciplinary thinking, practical management skills, and hands-on learning through community engagement.
The conversation marked the culmination of a semester of collaboration between the two organizations, as second-year MPA students completed their capstone project as consultants to BCDI, supervised by Partis and Derival. 
The role of social justice leaders in the next stages of our country's leading social movements and institutions is central to the mission and the work of the Colin Powell School, which this year initiated a new Leadership Center for Democracy and Social Justice in collaboration with the CUNY School of Labor and Urban Studies. 
View the full video recording of the event.