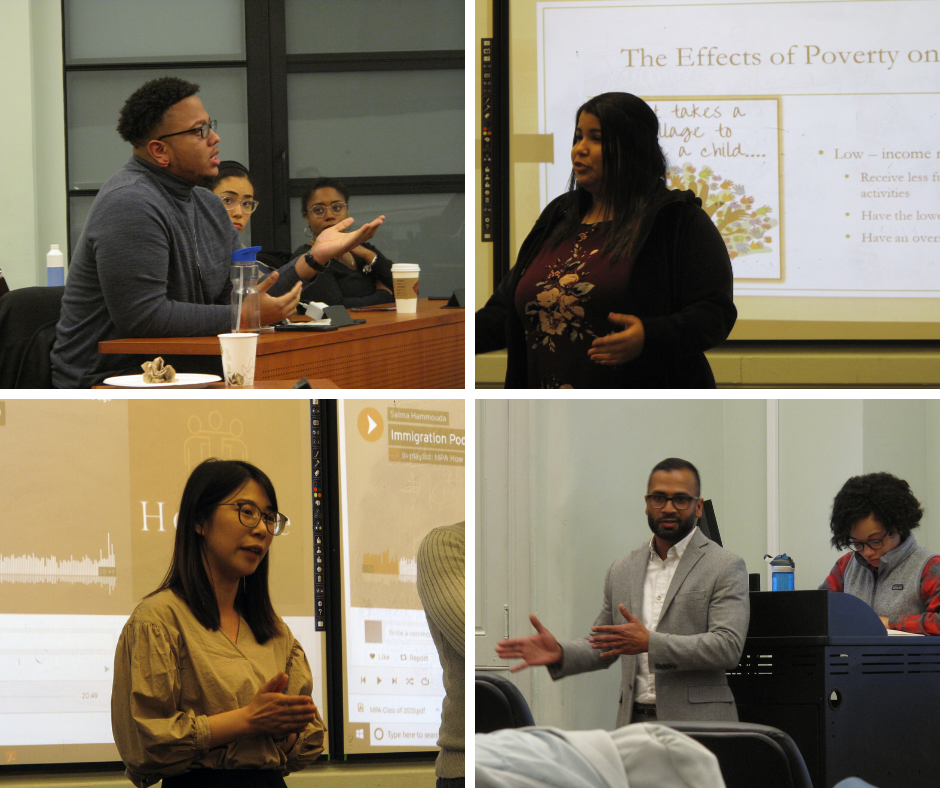 Final project for core MPA course examines leadership through the lens of intersecting social movements
---
Good leaders humanize the struggles of marginalized people, build genuine relationships with allies, and push for transformative changes that get to the root of the systems of oppression in our society. 
Those were some of the themes of MPA students' final presentations for leadership class last week. 
The students produced podcasts exploring leadership in movements to expand LGBTQ rights, dismantle mass incarceration, end immigrant family separation, and equalize access to health care, education, and affordable housing. 
The podcasts were posted on the student-run website www.leadersofnympaccny.com, a multi-year project initiated by the MPA Class of 2019 as a space for students to explore their leadership styles and highlight community leaders who are often overlooked. 
Redefining Leadership
In the course, titled Authentic and Adaptive Leadership, students discuss why and how people lead, and whether people have an obligation to lead. They also learn practical skills such as how to build alliances and test an organization's readiness for change.   
"A recurring question in our leadership class is, who can lead, and when should they lead?" stated Elliza Velez, a student in the Class of 2020. "I think for me, the hardest part was to understand that anybody has the ability to lead. You don't need a title or an authority to do so." 
Professor René Aubry treats the class like a laboratory powered by student participation. Students are challenged to push themselves beyond their comfort zones and develop their own approaches to leadership, drawing on their identities and life experiences. 
Leadership in Social Movements
This year's class made a unique contribution to the website by examining leadership in the context of social movements. 
Several presentations treated leadership as a contested arena of social struggle, likening leadership roles to other forms of power and wealth that are unequally distributed in our society.
Students also drew connections between social problems that are normally treated as separate issues. Velez and her groupmates, Hafida Rasool and Somayeh Saadat, examined the link between poverty and access to quality education. 
Likewise, Felix Garcia and Isael Tejeda – both housing activists themselves – discussed a range of issues specific to affordable housing in the city, but they also emphasized the need to collaborate with groups working on issues such as poverty and education to advance a common social justice agenda. 
One group examined the relational aspect of leadership in health care, which includes multiple direct providers as well as family and community. 
"Leadership is not just one person; it's a team of people," said Devon Bhagwandin. "You go to a hospital, you go home to heal, and it's a team of people collaborating to bring you the care that you need." 
Students also stressed the need to listen to people whose voices and priorities are not given the attention they deserve, such as people of color and working class people within the LGBTQ movement. 
"We are thankful that marriage equality was passed, but that fight was more of a priority for privileged white people," said second-year student Antonio Lopez. "In reality, the fight for equality for LGBTQ workers to be safe in their workplaces should have been the first right we fought for." 
The group also pushed for greater protections for sex workers and transgender people, who are disproportionately the victims of violence. 
The intersection of race, gender, and class – and the examination of what it means to be allies across these struggles – arose in the context of multiple issues, including mass incarceration. 
"Since America's founding, the prison industrial complex is rooted deeply in racism and classism," said Salma Hammouda. "It causes people to be second-class citizens for the rest of their lives."
Hammouda and her group also analyzed racism in the context of the war on drugs, the exploitation of prisoner labor, and New York City's stop-and-frisk policy. They explored alternatives that employ restorative rather than punitive justice and that aim for long-term, community-led decarceration. 
Another group focused on immigration, focusing especially on the policy of child detention and family separation at the border. 
"This issue is incredibly personal for us," agreed the three students, Thalia Chavez, Elvin Garcia, and Jiamin Yu, who are themselves from immigrant backgrounds. 
Elvin Garcia linked the immigration struggle to other social justice movements. "In the same way as the civil rights leaders were able to humanize their struggle, and LGBTQ leaders were able to humanize their struggle, we need to humanize the children at the border, and fill the gap in human empathy," he said.
The students expressed hope that this website project will grow as future MPA cohorts add their unique experiences and perspectives as they discover and cultivate themselves as leaders of social change. 
See related articles:
Students Create Website Challenging Traditional Views of Leadership