2022 Science Division Commencement Ceremony
We are once again reaching out to you to announce how excited we are to be hosting a Division of Science Commencement event after two years of virtual ceremonies! This event is for Science graduates from the last three graduating classes. This is the ONLY opportunity for you to walk across the stage in the Great Hall and have your name called, receive handshakes from the Dean and your Chair and have several professional photos taken (available for purchase). It is also the ONLY in-person event open to graduates from 2020 and 2021! We hope you take advantage of this event and come celebrate with us and each other!
If you have already RSVP'd, thank you very much. If you have not RSVP'd yet we encourage you to do so!
Please RSVP by April 8. More details to come in the near future.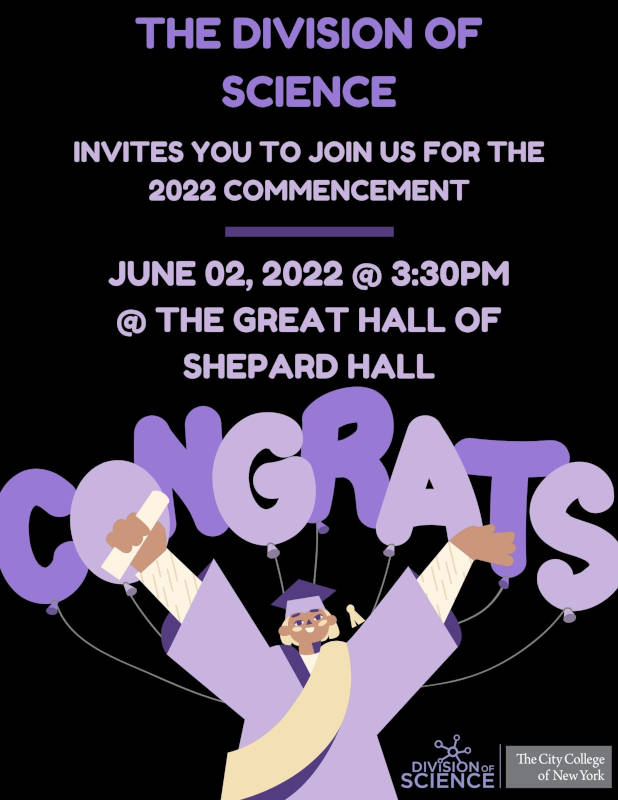 COVID-19 Vaccination Requirements and Mask Mandates
CUNY requires all students accessing campus to be vaccinated. Therefore, students must be vaccinated unless they have a medical exemption or religious exception on file to participate in commencement.
The college requires all commencement attendees to wear protective masks during indoor events.
For outdoor events, masks are required for unvaccinated participants and strongly encouraged for those that are vaccinated.
See https://www.ccny.cuny.edu/vp-operations/blog/covid-19-protocols-graduation for detailed guidelines.
Tickets
Students will be allow to bring 2 guests. All guests should register in the cleared4 guest portal (https://www.c4wrk.com/3fkvMuVn7UKDC1D3A) and submit their Vax proof or Negative PCR proof at least 3 business days in advance of the event. An email with instructions on how to claim the tickets will be send soon.
Main CCNY Commencement
For information about tickets for MAIN COMMENCEMENT, please check this site: https://www.ccny.cuny.edu/commencement.
For additional information, please contact the organizers of Commencement, The Office of Student Affairs.
Cap & Gown
The Cap & Gown pickup dates are as listed below:
May 25th              12:00 pm to 7:00 pm
May 31st               11:00 am to 6:00 pm
June 1st                 9:00 am  to 4:00 pm
Pickup Location:
NAC 1/211
Grads are asked to RSVP so that they can indicate which day they plan to pick up. 
https://groups.ccny.cuny.edu/Commencement/cap-and-gown-information-/
Honor Cords
If you have a GPA of 3.2 or higher, your cords will be available for pickup in MR 1320.  The office will be open Monday through Friday from 9:00AM-5:00PM. 
Last Updated: 07/19/2022 11:37