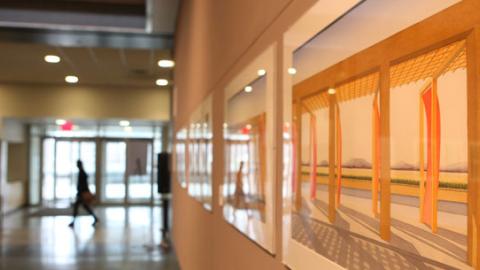 Welcome
Announcements -
The New Bursar Office Hours Monday and Wednesday 10 am -- 3 pm
Please be advised that students may pay their Tuition and Fee balance by using a credit or debit card.  There is a service fee of 2.65% for each card payment you make.
Please see the link below for further instructions.
Advisory: Enhanced Credit and Debit Card Payment Options for Tuition and Fees
Please be advised that the City University of New York  Board of Trustees approved a resolution to provide In-State Tuition for Students from the Bahamas who have been displaced by Hurricane Dorian.  This benefit will apply for the Fall 2019 through the Summer 2020 semesters.
Please be advised that we have made some changes to the e-check online payment process.
Here's what you need to know:
To make an online one-time payment, select the make a payment link in your Student Center.  Make sure your  pop-up blocker is disabled.
Then select Make Payment  from the left-hand menu.
You will see a screen that displays all of the CUNY Colleges that you have been associated with (if applicable).  Next to each college there will be a payment amount box.
If you owe money to CCNY or any other CUNY college, the amount owed will be listed in the payment amount box next to the college name.  It will be blank if nothing is owed.  DO NOT enter amounts into payment amount boxes of schools with no amounts due.  If you do, a payment will be made to that school.
You can choose to pay the entire amount in the payment amount box.  Or you can choose to override the pre-populated amount and enter the amount you wish to pay in the payment amount box next to the college you wish to pay.
After you enter your bank information you will see a screen asking, is this eCheck information correct.  Before you finalize your payment, review your payment information to:
Please verify that your bank routing numbers and bank account numbers are correctly entered.
Make sure you are only sending money to a college where your have outstanding charges;
Confirm the amount.  If you information is incorrect, hit cancel and start over.
**Effective January 1, 2018, a Bursar hold can only be removed immediately by paying at the Bursar's window with a Certified Bank Check or cash.  If a payment is made via an E-Check online payment or personal check, there is a ten business day waiting period before the Bursar hold can be removed.**
Please contact Ms. Rhonda Jenkins, Office of the Bursar, immediately if your have any questions or need more information via email at bursaroffice@ccny.cuny.edu or by telephone 212-650-7000.
For the contact information for the Bursar at another CUNY College please see:
http://www2.cuny.edu/about/administration/offices/budget-and-finance/services/student-financials/bursar-contacts/                                                                                                                                                                                                                                                                                                                         
Changes to Payment Options for Tuition and Fees.
Advisory: Enhanced Credit and Debit Card Payment Options for Tuition and Fees
The enrollment fee for the payment plan, if paying by Credit/Debit Card, is $95.  If paying by Electronic Check, fee is $40.
The Electronic Check payment option through CUNYfirst H/R Campus Solutions/Self Service continues to be an alternative payment option that is cost effective, since it does not require an enrollment fee.
The Office of the Bursar serves to collect all tuition and fees in accordance with CUNY policies and procedures. These guidelines are set forth by the Federal Government, New York State and New York City.
Please note that your tuition deadline date is based on your first initial registration date.
All unpaid balances will be sent to Collections after one year.
Office Hours:
Monday:  10:00 AM - 3:00 PM
Tuesday:  Closed 
Wednesday: 10:00 AM - 3:00 PM
Thursday: Closed
Friday: Closed