Standard Chartered Presents: Founder Talk with Tiffany Norwood: Sexy, Black, Genius
Dates
Tue, Feb 28, 2023 - 12:30 PM — Tue, Feb 28, 2023 - 02:00 PM
Event Address
The City College of New York
160 Convent Avenue
Event Location
Eventbrite registrants will receive the room location.
Event Details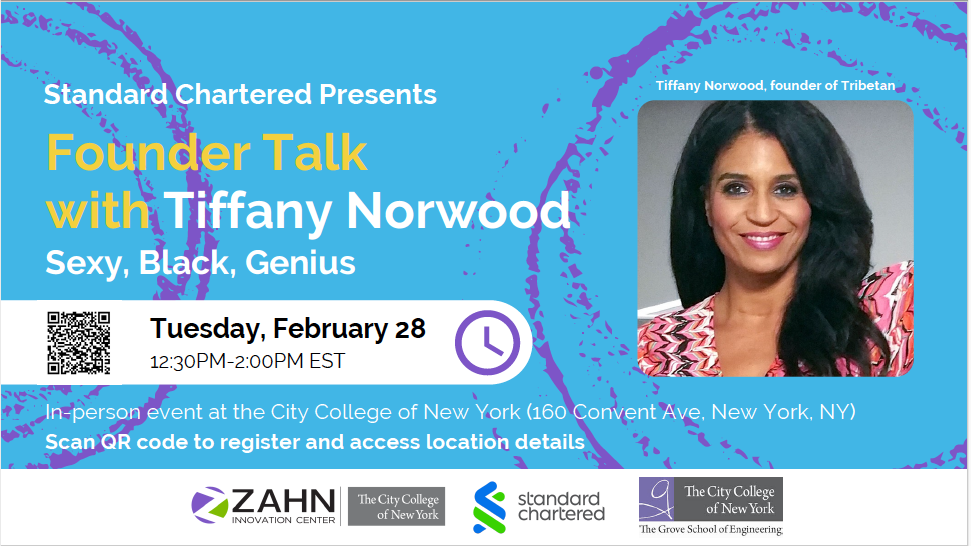 Celebrating Black History Month, Zahn Center features Tiffany Norwood, serial entrepreneur and public speaker, at our February founder talk.
This event is proudly sponsored by Standard Chartered Bank, as part of its Women's Technology Incubator at The City College of New York.
Doors Open: 12:25pm
Program: 12:30pm-1:30pm
Lunch & Networking: 1:30pm-2:00pm
Tiffany Norwood - Founder & CEO, Tribetan
With a global and unique perspective on everything, Tiffany Norwood is considered one of the top innovators and tech entrepreneurs in the world. Seeing patterns of opportunities, Tiffany often creates years into the future and has been a pioneer in multiple industries from digital broadcasting, broadband internet, digital music, ed-tech, eSports, and more. Her start-ups have impacted billions of people in more than 150+ countries. She is known worldwide as a changemaker. Tiffany was recently named the 2022 Entrepreneur of the Year for Cornell University, the first black woman to receive this lifetime achievement award in its nearly forty-year history.
Tiffany first became a CEO while a junior at Cornell University, filed for a patent at the age of 19, licensed her first software code for a multibillion-dollar bank merger at the age of 24, and by the age of 27, Tiffany did something that no other entrepreneur has done since– she raised over $670 million dollars to fund a start-up called Worldpace. As early space entrepreneurs, WorldSpace used that money to launch three satellites into space; build the first-ever global digital radio platform, including XM Radio; support the development of MP3/MP4 technologies; and, at the request of then-President Nelson Mandela, invest in a new generation of solar-powered satellite radio receivers to help in his campaign for truth and reconciliation.
Although predominantly a frontier technologist, Tiffany's ventures have ranged from the first one-strap backpack; to the automation technology behind self-install kits for broadband internet and digital phone; to a healthcare clinic in Ethiopia that has treated thousands of patients.
And she hasn't stopped. Currently, she is transforming education and disrupting sports, as the Founder and CEO of Tribetan, and a legacy Co-Founder of SimWin Sports. Using technology, music, video, and animations, Tribetan is teaching the world how to be more innovative and entrepreneurial for success in business, school, and life. SimWin Sports is the first-ever digital sports league platform, with tokens, online betting, and esports fantasy tournaments.
Tiffany has an MBA from Harvard and a Bachelor's in Economics with a concentration in statistics and electrical engineering from Cornell University. She is a highly respected global speaker on entrepreneurship, innovation, and leadership- including venues like the USPTO, the Newseum, the European Parliament, Cornell University, Yale University, the Italian Parliament, Platform Summit, Intel, the Creative Business Cup, KPMG UK, and many others.
Back to Departmental Calendar
Back to calendar of events