Community Outreach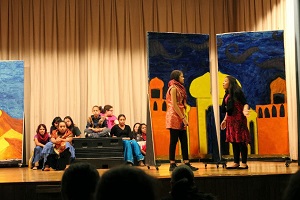 The Graduate Program in Educational Theatre at The City College of New York utilizes service learning to best prepare candidates with the development of skills needed by a theatre teacher and teaching artist. Community outreach programs include:
After School Drama Program
Collaborating with PS 161 in Harlem, candidates enrolled in EDCE 3700C Fundamentals of Teaching Theatre work along with the Instructor, Parents, Principal, Public School Middle School Students and the Public School Teachers to Direct, Choreograph, create set and costumes, promote and build a rehearsal schedule to perform a show. The Middle School Students gain self-confidence, learn how to collaborate with peers, and develop theatre skills.In addition, students enrolled in EDCE 3600C will be creating curriculum guides and facilitating pre show lessons and post show discussions for children in 3rd – 5th grade who will be audience members for the middle school production, to enrich their experience.
The Jungle Book
Aladdin Kids - Resource Guide
Little Mermaid Curriculum Guide
 
Readings on the Road
Candidates enrolled in EDCE 3600C Theatre for Youth and Young Audiences, develop an age appropriate theatre piece, rehearse and perform, identify needs of specific settings to develop pre-show lessons and curriculum guides, and participate as part of a talk back.Performances have been at PS 161, HELP USA SHELTER, PS 180, and for the Hamilton Heights Parent Association.Audience participants will build theatre skills and have the opportunity to dive deeper into the piece of art. In addition, the curriculum guides will assist classroom teachers in integrating with class curriculum.
Fable Talk
Hansel and Gretel
The Princess Who Could Not Cry
Little Red Riding Hood
Busy Bea
 
Candidates enrolled in EDCE 4400C Integrating Theatre and Related Arts will create lessons and facilitate activities open to the public.These candidates will use the art forms experience in class (puppetry, mask making, storytelling, theatre games) and develop lessons, learn how to work with families and children in non-traditional settings, gain knowledge collaborating with colleagues.Those families and children who participate will have exposure to the arts and theatre skill building.
Spring 2014
Spring 2013
Spring 2012
Spring 2011
Harlem Children's Theatre Festival
Candidates enrolled in EDCE 440C Integrating Theatre and Related Arts will use the art forms experienced in class to develop activities for non-traditional settings, gain knowledge on how to organize and promote the event. Children and Families who attend the event will have exposure to the arts and theatre skill building, experience live performances, and will have an opportunity to "play" with their families.This is open to the community.
Spring 2014
Family Arts Day 2013
Family Arts Day 2012
Family Arts Day 2011
Arts Integration Residency
Candidates enrolled in EDCE 4400C Integrating Theatre and Related Arts will use drama to teach core content areas or use core content as source material to teach theatre skills, while collaborating with a full time teacher.Students who benefit from this residency will have enrichment to support core content curriculum, develop theatre skills, have increased engagement in school, and gain confidence while classroom teachers may also benefit from these skills.

Devising Theatre with the Community
Candidates enrolled in EDCE 0900A /EDCE 3206N will collaborate with community based organizations to devise theatre.Partnering organizations have included HELP USA and Manhattanville Senior Center.Candidates will collaborate with participants and colleagues in class to devise theatre performances that are performed in front of an audience.Participants will gain confidence, works as an ensemble and develop theatre skills.