Sobha Kavanakudiyil is currently Co- Chair of the New York City Arts in Education Roundtable. She was a Fulbright Specialist and traveled to Seoul, Korea collaborating with English teachers doing Arts Integration work, as well as to to Puebla, Mexico working with children and youth devising theatre.  She has also has been awarded a citation from the City of New York by Councilman Mark Levin for her commitment to community outreach in the Harlem Community.
Dr. Jan Valle is a professor of inclusive education at The City College of New York. She teaches courses about inclusive practices in the programs of childhood education, bilingual education, and educational theatre. Adding to her academic and professional background in special education and disability studies, Dr. Valle recently earned a second master's degree in applied theatre.  Her current research is focused on developing a model that integrates disability studies and applied theatre for implementation in public schools. She has provided professional development for teaching artists at the Center for Arts Education (CAE), Educational Mobile Immersive Theatre (EMIT), and Roundabout Theatre Company as well as consultation on disability representation for Disney Theatrical Group. Her research on disability studies and applied theatre has been published in the International Journal of Education & the Arts (2012) and has been presented at conferences at The Kennedy Center (Washington, D.C.), University of Edinburgh (Edinburgh, Scotland), University of Canterbury (Christchurch, New Zealand), and the University of Ghent (Ghent, Belgium).
Program Founder
Dr. Jennifer Katona started the Graduate Program in Educational Theatre in 2008 with eight students.  During her tenure as Program Director the program has evolved and now has robust classes, strong community outreach programs and research presented as ethno-drama performances.  Dr. Katona has had a long lasting impact on her students and colleagues.  She is now the Visual and Performing Arts Senior Manager for the Norwalk Public Schools, on the Advisory board for the graduate program and a leader in the field of arts education.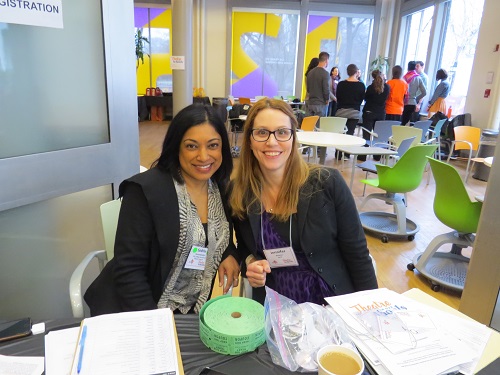 Sobha Kavanakudiyil and Jennifer Katona