iPad                           Download: iPad Guide PDF
In order to use the Labstats application you will need to have the Remote Desktop 8 download to your device.
1.  To download the Remote Desktop, go to the Apps store, on the table, search for Remote Desktop 8, and click Get.
2.   To access Labstats
      Link: https://remoteaccess.labstats.com/City-College-of-New-York
3.   Under the Computer Labs column, select the lab section you will like to connect to, and click Connect next to the computer. Click Download and Open in.
4.   Click the file to Download and open.
5.   Enter Citymail email credentials click Continue
note: Please note you need to use itcs\[username\ for username. (Ex: itcs\jdoe000)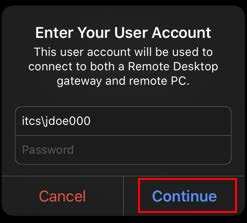 6. You my get this pop up if you are using any Bluetooth devices )Ex: Bluetooth keyboard). If you are using any Bluetooth devices, click OK.
7.   On the desktop screen, you will see three icons... click the middle icon.

8.   On the following screen, click on the Mouse Icon. This will turn your iPad screen into a mouse pointer. You will still use your finger touch on your iPad, but the click will be more like a regular mouse. The pointer and your finger might not be synced, but if you use the finger pointer, it will be much more lagged and will not click correctly like a mouse.
9.   When finished with the session, click on the Start menu (on the remote computer)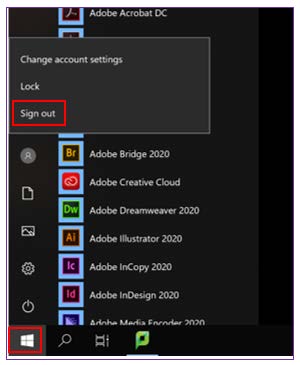 10.   Click on your avatar followed by the Sign Out option. This will sing you out from the remoted computer. DO NOT click Shut Down, or Restart it will not all for users to access this workstation.
Last Updated: 11/19/2021 10:35