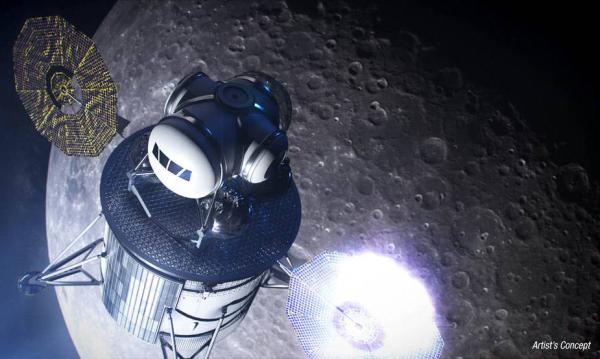 City College is the recipient of a $3 million NASA grant to develop advanced batteries for robotic spacecraft that will undertake deep space missions. Image credit: NASA.
The City College of New York is partnering with NASA on future space exploration missions after winning a $3 million three-year grant from the agency to develop advanced batteries for robotic spacecraft that will excel under the extreme temperatures and radiation of outer space. The funding from NASA's MUREP Institutional Research Opportunity (MIRO) will establish the NASA-CCNY Center for Advanced Batteries for Space at CCNY in collaboration with NASA's Jet Propulsion Lab (JPL) and Northeastern University.
Robert J. Messinger, assistant professor of chemical engineering in City College's Grove School of Engineering and a core faculty member of the CCNY-based CUNY Energy Institute, will direct the new research and education center. His collaborators from CCNY's chemical engineering department include Elizabeth Biddinger, Alexander Couzis and Sanjoy Banerjee. 
Messinger outlined the strengths of the partnering institutions: "we are excited to work with JPL and our partners to establish this new center, which will not only develop next-generation batteries to enable entirely new mission concepts in planetary science, but also train a highly skilled, diverse STEM workforce in electrochemical energy storage, an area of strategic importance for NASA and the nation," he said. "CCNY brings extensive expertise in novel battery development, student training, and management. Northeastern University brings experience in advanced battery characterization while JPL brings deep knowledge of batteries for spaceflight as well as facilities that permit device testing under the extreme conditions encountered in space and other planets."
In addition to designing hi-tech batteries that will significantly enhance the scope and ambition of future NASA planetary science missions, CCNY and its partners will establish a multi-faceted student internship program between CCNY and JPL, a student exchange program between CCNY and Northeastern University, and an undergraduate summer research program at CCNY. Participants in the latter will be from local and regional schools, including CUNY's Hostos and Bronx community colleges.
CCNY's winning NASA proposal is the second recognition this summer of its pioneering work in developing next-generation battery technologies. In June, Sanjoy Banerjee, Distinguished Professor of Chemical Engineering in the Grove School and director of the CUNY Energy Institute, received the U.S. Environmental Protection Agency's 2019 Green Chemistry Challenge Academic Award for developing low-cost, safe, and environmentally friendly rechargeable zinc batteries.
About the Grove School of Engineering
CCNY's Grove School of Engineering celebrates a century of educating engineers this year. Originally established as the School of Technology in 1919, it evolved to the School of Engineering in 1962 and was renamed The Grove School of Engineering in 2005 in honor of alumnus Andrew S. Grove, whose $26 million gift to the institution that year is the largest in CCNY's history. A distinguished member of CCNY's Class of 1960, Grove was a founder and former chairman of Intel Corp, one of the world's leading producers of semiconductor chips. Today, the Grove School remains the only public school of engineering in the heart of New York City.  
About The City College of New York
Since 1847, The City College of New York has provided a high quality and affordable education to generations of New Yorkers in a wide variety of disciplines. CCNY embraces its role at the forefront of social change. It is ranked #1 by the Harvard-based Opportunity Insights out of 369 selective public colleges in the United States on the overall mobility index. This measure reflects both access and outcomes, representing the likelihood that a student at CCNY can move up two or more income quintiles. In addition, the Center for World University Rankings places CCNY in the top 1.2% of universities worldwide in terms of academic excellence. More than 16,000 students pursue undergraduate and graduate degrees in eight professional schools and divisions, driven by significant funded research, creativity and scholarship. CCNY is as diverse, dynamic and visionary as New York City itself.  View CCNY Media Kit.