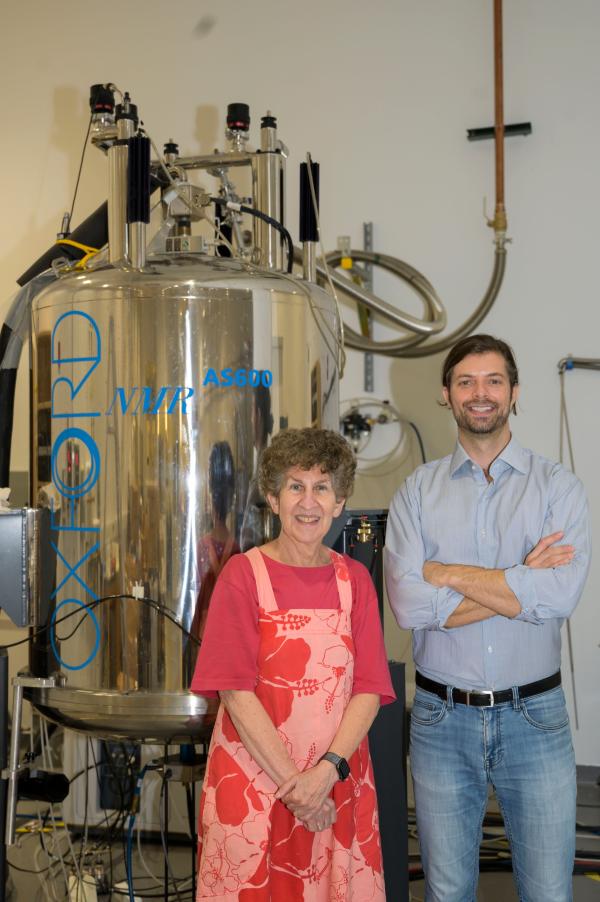 Ruth Stark, a CUNY Distinguished Professor, and Robert Messinger, a CUNY Assistant Professor, in front of a large NMR magnet at CCNY. It's one of the research instruments to be upgraded with the NSF grant.
Setting the stage for more groundbreaking inquiry in the sciences and engineering at The City College of New York, a major upgrade to research instruments for solid-state nuclear magnetic resonance (NMR) spectroscopy is underway, funded by a $833,284 grant from the National Science Foundation (NSF).  The award, from the NSF's Major Research Instrumentation (MRI) program, is over three years and will enable six faculty-led CCNY teams to pursue forefront research that ranges from engineering science to the biology of animals, plants and fungi.
"This equipment is designed to give us unique access to atomic-level structures and motions that underlie the functions of materials including membrane proteins, natural biopolymers, and novel battery electrodes," said the project's co-leader Ruth E. Stark, who directs CUNY's Institute for Macromolecular Assemblies and is a CUNY Distinguished Professor of Chemistry and Biochemistry in CCNY's Division of Science. "Importantly, this project includes educational and outreach activities to share technical expertise, seed partnerships, and disseminate our scientific advances, both within the Metro New York solid-state NMR community and more broadly to our peers in science and engineering."
Highlights of the project titled "MRI: Acquisition of Advanced Solid-State NMR Instrumentation to Investigate Novel Biological & Engineered Materials at CCNY" include:
An advanced Bruker AVANCE NEO solid-state NMR console, resulting in a comprehensive upgrade to the existing Varian/Agilent electronic console interfaced to the existing 14.1 T NMR magnet;
 
A high-gradient broadband probe for pulsed-field-gradient (PFG) NMR measurements to quantify diffusion coefficients of slow-diffusing and/or fast-relaxing species; and
 
Three re-engineered triple resonance magic-angle spinning (MAS) NMR probes for characterization of the molecular architectures of biopolymers, proteins, and engineered materials.
In combination, the console along with the MAS and diffusion probes will provide CCNY researchers with unique access to molecular environments, structures, and motional processes that underlie the functions of solid materials. These include membrane proteins, biopolymers, and battery electrodes with applications in fields ranging from engineering to biology. 
"This exciting project will comprehensively upgrade our research infrastructure for advanced solid-state nuclear magnetic resonance (ssNMR) spectroscopy, resulting in new state-of-the-art capabilities at City College that will enable us to unravel the molecular mysteries of complicated natural and engineered materials," said Robert J. Messinger, project co-leader, Assistant Professor of Chemical Engineering, and Director of the NASA-CCNY Center for Advanced Batteries for Space in CCNY's Grove School of Engineering.
About the City College of New York
Since 1847, The City College of New York has provided a high-quality and affordable education to generations of New Yorkers in a wide variety of disciplines. CCNY embraces its position at the forefront of social change. It is ranked #1 by the Harvard-based Opportunity Insights out of 369 selective public colleges in the United States on the overall mobility index. This measure reflects both access and outcomes, representing the likelihood that a student at CCNY can move up two or more income quintiles. In addition, the Center for World University Rankings places CCNY in the top 1.8% of universities worldwide in terms of academic excellence. Labor analytics firm Emsi puts at $1.9 billion CCNY's annual economic impact on the regional economy (5 boroughs and 5 adjacent counties) and quantifies the "for dollar" return on investment to students, taxpayers and society. At City College, more than 16,000 students pursue undergraduate and graduate degrees in eight schools and divisions, driven by significant funded research, creativity and scholarship. CCNY is as diverse, dynamic and visionary as New York City itself. View CCNY Media Kit.