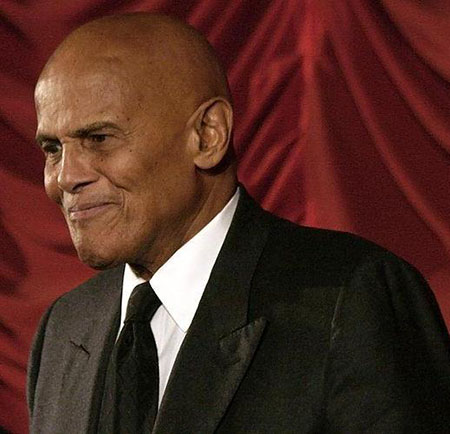 CCNY's Harry Belafonte Award for Best Essay on Social Justice is accepting entries until March 31, 2020. 
As he celebrates another milestone birthday, Harry Belafonte, the entertainment icon and Civil Rights activist, is getting a new honor from The City College of New York, with which he's closely associated. CCNY announces the Harry Belafonte Award for Best Essay on Social Justice.
The annual award, which carries a $300 prize, will be presented to a deserving City College undergraduate, regardless of major, by the Black Studies Program in CCNY's Division of Humanities and the Arts. 
Essays of up to 2,500 words will be submitted to Bill Crain, professor, psychology, by March 31, 2020.  
Topics will be around social justice. Sample topics include police profiling of people of color, housing discrimination, segregated schools and economic disparities -- issues on which Belafonte has taken a strong stand.
This is the latest recognition of Belafonte's outstanding professional and activist career. The Harlem native, who turned 93 on March 1, received The City College Alumni Association's John H. Finley Award in 2002 for exemplary and dedicated service to the City of New York.
In 2011, Belafonte gave the CCNY Black Studies Program's keynote address in celebration of Black History Month. In 2018 and 2019, celebrations of Belafonte's 91st and 92nd birthdays took place in The City College Center for the Arts.
For information on the Harry Belafonte Award for Best Essay on Social Justice, please contact Vanessa K. Valdés, director, Black Studies Program, at 212.650. 8117 ( vvaldes@ccny.cuny.edu ); or Bill Crain at 212. 650.5650 ( wcrain@ccny.cuny.edu ).
About Harry Belafonte
Harry Belafonte was born in Harlem in 1927 to parents from the Caribbean.  Between 5 and 13 years of age he lived in Jamaica and then returned to Harlem with his mother.  He dropped out of high school, joined the Navy, and entered show business. Initially singing with jazz bands, Belafonte turned to Calypso songs of Caribbean origin, for which he became famous. He wrote (with Irving Burgie) the beautiful song, "Island in the Sun." He also starred in movies and became the first African American to host his own TV show.  
       
Belafonte has been very active in civil rights.  A close friend of Martin Luther King, Jr., Belafonte has provided large funding for voter registration drives. He also fought against Apartheid in South Africa, and has worked hard to give people of African descent opportunities  in the entertainment industry. 
About The City College of New York    
Since 1847, The City College of New York has provided a high-quality and affordable education to generations of New Yorkers in a wide variety of disciplines. CCNY embraces its position at the forefront of social change. It is ranked #1 by the Harvard-based Opportunity Insights out of 369 selective public colleges in the United States on the overall mobility index. This measure reflects both access and outcomes, representing the likelihood that a student at CCNY can move up two or more income quintiles. In addition, the Center for World University Rankings places CCNY in the top 1.2% of universities worldwide in terms of academic excellence. Labor analytics firm Emsi puts at $1.9 billion CCNY's annual economic impact on the regional economy (5 boroughs and 5 adjacent counties) and quantifies the "for dollar" return on investment to students, taxpayers and society.  At City College, more than 16,000 students pursue undergraduate and graduate degrees in eight schools and divisions, driven by significant funded research, creativity and scholarship. CCNY is as diverse, dynamic and visionary as New York City itself. View CCNY Media Kit.