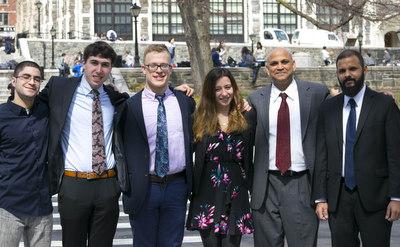 CCNY's triumphant EPA RainWorks Challenge team. From left: Uziel Crescenzi, Alexander C. Fenichell, Lawrence M. Vulis, Agata Bugala, Krish Ramalingam and Naresh Devineni.
A green project by an interdisciplinary team of City College of New York students is the winner of The United States Environmental Protection Agency's fifth annual Campus RainWorks Challenge.
Tasked with designing an innovative green infrastructure project that effectively manages stormwater runoff while benefitting the campus community and environment, the five-member City College team devised the "Castor Project."
The project got its name from the scientific term for the beaver (Castor canadesis), CCNY's mascot. Taking a cue from the beaver's role as a natural water manager, the team designed a master plan for campus-wide stormwater management. The plan calls for increasing tree canopy 15 percent by adding 89 trees and impervious area 38 percent by adding 23,000 square feet of permeable surface. A water storage tank could capture up to 3000 cubic feet of stormwater for gray water usage.
Four undergraduates and one graduate student, from the Grove School of Engineering, the Bernard and Anne Spitzer School of Architecture, and the Division of Humanities and the Arts, made up the CCNY team:
•    Agata Bugala, environmental engineering;
•    Uziel Crescenzi, landscape architecture (graduate);
•    Alexander Fenichell, environmental engineering;
•    Deanna Greene, advertising and public relations;
•    Lawrence Vulis, environmental engineering.
Naresh Devineni, assistant professor, civil engineering, and Krish Ramalingam, project engineer in the department, served as faculty advisors. The team leader Lawrence Vulis is also a NOAA-CREST intern, and Devineni is a faculty affiliate of NOAA-CREST.
The Castor Project design presents a climate-informed, optimal system for campus-wide stormwater management. The CP gives options to reduce stormwater runoff between 10% to 20% and increases permeable area from 8% to between 9-10%. The CP includes an educational component to teach college and high school students about stormwater and water conservation. This plan signifies a step forward in improving stormwater management for New York City and campus sustainability for CCNY.
About The City College of New York
Since 1847, The City College of New York has provided low-cost, high-quality education for New Yorkers in a wide variety of disciplines. Today more than 16,000 students pursue undergraduate and graduate degrees in eight professional schools and divisions, driven by significant funded research, creativity and scholarship.  Now celebrating its 170th anniversary, CCNY is as diverse, dynamic and visionary as New York City itself.  View CCNY Media Kit