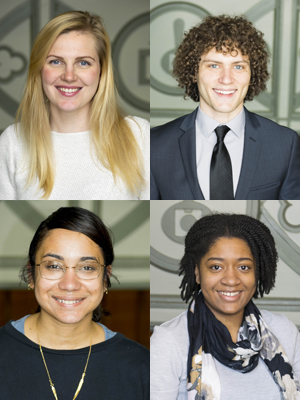 Annika Lüdke, a graduate of the Master's Program in International Relations from the Colin Powell School for Civic and Global Leadership, is one of the many outstanding members of the Class of 2017. After a stint as an au pair in the United States and an introduction to intercultural communications at a community college, Lüdke knew that small town life in Germany was not for her. So she made her way to The City College of New York.
"I looked for programs, and I found City College and the Colin Powell School. I was totally convinced this would be a great school, so I looked into professors and saw how involved they were with the United Nations," said Lüdke, who earned a bachelor's degree in Holland. "I worked four long years in the Netherlands with the dream of coming back here."
A Colin Powell Fellow, Lüdke worked on a project to address urgent public problems in underserved communities. The goal of the project was to attract students, ages 8 to 12, in Harlem to come to CCNY.
After graduating, Lüdke hopes to stay in New York and work in organizations that promote women and children's rights as well as diplomacy and exchange.
Other standouts in the Class of 2017 include:
Alexander Chait, BS Psychology, Macaulay Honors College, will pursue both MD and MPH degrees after a year of travel. He was both a Colin Powell and S Jay Levy fellow. Chait hopes to practice clinical medicine and be an advocate for individuals suffering from mental illness.
 
Natalia Rodriguez, BA English, was a top two finisher in The Kathryn Irene Glascock Intercollegiate Poetry Competition at Mount Holyoke. She also received The Margaret Halmy Prize for general excellence. Rodriquez plans to attend graduate school at either the CUNY Graduate Center or the California Institute of the Arts.
 
Shereese Trumpet, B. Arch , was one of 20 distinguished minority architects and designers featured in the "Say It Loud" exhibition. Among her numerous accolades were the nycobaNOMA Diversity Award and the Center for Architecture Heritage Ball Scholarship.
The Class of 2017 comprises approximately 3,820 students. Other Class of 2017 stars includes Valedictorian Ellianna Schwab, Salutatorian Elaine Johnson and other members of CCNY's 2017 "Great Grads" selection.
Click here for the latest information on City College's 171st commencement exercises.
About The City College of New York
Since 1847, The City College of New York has provided low-cost, high-quality education for New Yorkers in a wide variety of disciplines. Today more than 16,000 students pursue undergraduate and graduate degrees in eight professional schools and divisions, driven by significant funded research, creativity and scholarship.  Now celebrating its 170th anniversary, CCNY is as diverse, dynamic and visionary as New York City itself.  View CCNY Media Kit.