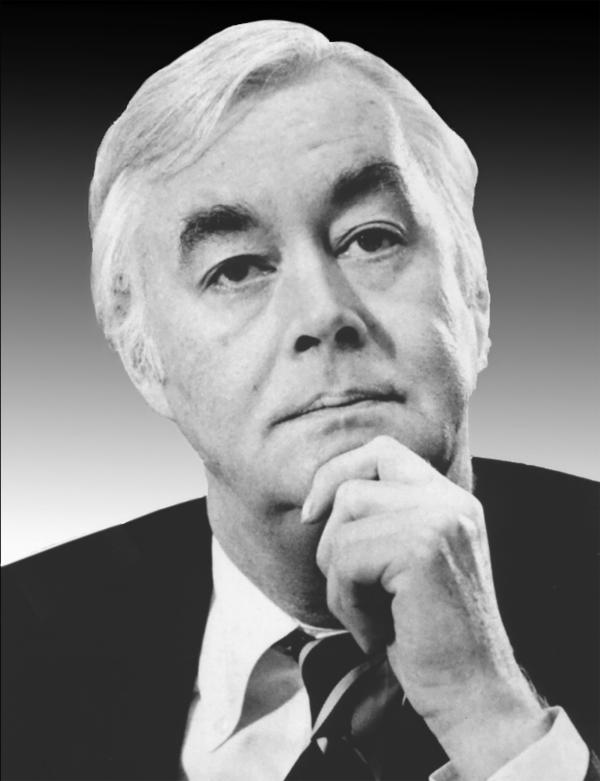 CCNY's Colin Powell School is launching the Daniel Patrick Moynihan Center to support new leaders making a difference in public affairs. The center is named for the late Sen. Moynihan (1927-2003) who represented New York in the U.S. Senate.
In 2023, the Colin Powell School for Civic and Global Leadership at The City College of New York will launch the Daniel Patrick Moynihan Center with the purpose of supporting new leaders to make a difference in public affairs. Through two signature fellowship programs and a rich slate of public events, the Moynihan Center will ensure that the next generation of public scholars and public servants reflects the diversity of viewpoints and lived experiences represented at The City College.
The Moynihan Center takes inspiration from the late Senator for New York's celebrated career, which began when he attended CCNY as an undergraduate in 1943, before joining the US Navy, earning a doctorate in history, serving in four White House administrations (two for each party), and ultimately becoming New York's longest serving Senator.
"CCNY is proud to have played an important role in Senator Moynihan's early life, and we are grateful for the opportunity to launch a center in his name with the mission of improving the quality of public debate and discussion in the nation," said Vincent Boudreau, President of The City College. "The new Center is inspired by Senator Moynihan's storied career, and its programs will create a space for developing new leaders whose work reflects the intellectual range and rigor he demanded of himself and his colleagues in public service."
"Although he earned his BA from Tufts, Pat always considered himself a City College man," said Elizabeth Moynihan, the late Senator's wife. "He understood well the value and the opportunity provided by a public education, and would have been deeply honored to have his name attached to this wonderful institution."
The Center begins with support from a foundational grant of $6.96 million from the Leon Levy Foundation, as well as programmatic grants from the Teagle, Charles H. Revson, and Achelis & Bodman foundations. 
Shelby White, founding trustee of the Leon Levy Foundation, said: "The Leon Levy Foundation is proud to support the Daniel Patrick Moynihan Center at the Colin Powell School at City College in honoring the lasting legacy of Senator Moynihan. Pat was a towering figure as a scholar and statesman and a cherished friend to my late husband, Leon, and me."
The Moynihan Center was approved by the CUNY Board of Trustees in December 2022, and it aims to raise an additional $4 million to support its first five years of operations. Part of the Leon Levy Foundation grant is earmarked to support the renovation of the fifth floor of Shepard Hall, the landmark and iconic neo-gothic centerpiece of City College's Harlem campus and future home of the Moynihan Center.
The inaugural Executive Director will be Professor Carlo Invernizzi Accetti, a member of the faculty in the Colin Powell School's political science department. "It is an honor to be part of this exciting project, which has the ambition of transforming City College's public impact, but also the future of public service leadership in New York City, the country, and the international community at large," he said.
The pillars of the Center are two fellowships. The Moynihan Public Service Fellowship will support promising undergraduate students from CCNY interested in innovative careers in public service with a distinctive curriculum, a summer internship, and stipends of up to $10,000. The Moynihan Public Scholars Fellowship will invite diverse cohorts of early-to-mid-career professionals—academics, journalists, and public servants—to spend a year at City College writing, teaching, and participating in public events.

"We see these two fellowships as fundamentally intertwined, which is why it is critical that Public Scholars take residence at City College" said Michael Miller, Distinguished Lecturer of Political Science and Deputy Director of the Center. "The senior fellows won't simply spend a year working on individual writing projects—they will also become active participants in a vibrant intellectual community and model the variety of career trajectories open to our students."
"Our students have first-hand knowledge about the biggest issues facing our city and can be a driving force of change in the way we problem solve and steward culturally responsive innovations in the public sector at all levels," said Michelle Morazán, the Center's managing director. "The Moynihan Center's Public Service Fellowship will prepare and empower our undergraduate students to turn these challenges on their head by providing high content courses, professional development, and leadership training as well as direct hands-on experience."
"We are honored to host the Moynihan Center at the Colin Powell School," said Andrew Rich, the Richard J. Henley and Susan L. Davis Dean of the Colin Powell School. "Our mission is to transform one of the nation's most diverse student bodies into tomorrow's global leaders, and the Moynihan Center will be on the leading edge of accomplishing that goal in public service. It will elevate new voices and leaders and serve to reanimate the debate of big ideas on our campus and across New York City."
 
The first cohorts of each fellowship will be selected and announced this spring and will begin their terms in fall 2023, alongside the formal inauguration of the Moynihan Center. If you would like to be notified about public events and other announcements, click here to join the Moynihan Center's mailing list. For more information contact Michael Miller at 212.650.5246, or mmiller3@ccny.cuny.edu .
About the Colin Powell School for Civic and Global Leadership
Established in April 2013, the Colin Powell School is home to the social science departments at CCNY as well as the core leadership development and public service programs of the College. With almost 4,000 students, and graduating the most CCNY students annually, the Colin Powell School mission is to transform the nation's most diverse student body into tomorrow's global leaders. Half of our students are immigrants; most come from lower income backgrounds. More than seventy percent are first-generation college students, and eighty percent are people of color. The Colin Powell School and City College remain among the most effective engines of economic and social mobility in the United States. The School is led by a faculty dedicated to the highest standards of research and to the university's democratic and public obligations. Read more about the Colin Powell School.
About the City College of New York
Since 1847, The City College of New York has provided a high-quality and affordable education to generations of New Yorkers in a wide variety of disciplines. CCNY embraces its position at the forefront of social change. It is ranked #1 by the Harvard-based Opportunity Insights out of 369 selective public colleges in the United States on the overall mobility index. This measure reflects both access and outcomes, representing the likelihood that a student at CCNY can move up two or more income quintiles. Education research organization DegreeChoices ranks CCNY #3 nationally for social mobility. In addition, the Center for World University Rankings places CCNY in the top 1.8% of universities worldwide in terms of academic excellence. Labor analytics firm Emsi puts at $1.9 billion CCNY's annual economic impact on the regional economy (5 boroughs and 5 adjacent counties) and quantifies the "for dollar" return on investment to students, taxpayers and society. At City College, more than 15,000 students pursue undergraduate and graduate degrees in eight schools and divisions, driven by significant funded research, creativity and scholarship. This year, CCNY launched its most expansive fundraising campaign, ever. The campaign, titled "Doing Remarkable Things Together" seeks to bring the College's Foundation to more than $1 billion in total assets in support of the College mission. CCNY is as diverse, dynamic and visionary as New York City itself. View CCNY Media Kit.