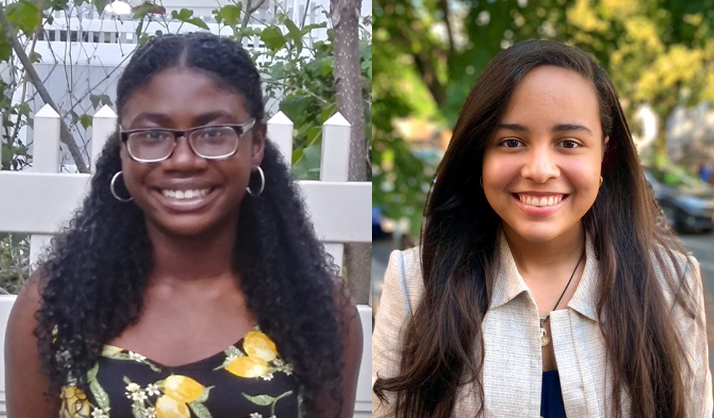 Nija Daniels [left] and Kimberly Pereyra Monero are winners of 2021 Jeannette Watson Fellowships.
Nija Daniels and Kimberly Pereyra Monero, both sophomores in the Colin Powell School for Civic and Global Leadership, are The City College of New York's 2021 Jeannette K. Watson Fellowship recipients. They are among 15 promising undergraduates from New York City colleges and universities selected for the highly competitive awards.

Created in 1999 and supported by the Thomas J. Watson Foundation, the program provides fellows with three years of personal, professional and cultural immersions in the United States and abroad. Fellows are provided with annual funding of $6,000, $7,500 and $8,500, in addition to a $2,000 Discovery Fund to develop their personal, professional, and cultural potential.

Daniels is an international studies major minoring in English and legal studies. She's on the Dean's List, has been a Peter F. Vallone Scholar, an S Jay Levy Fellowship recipient, and is a member of the Skadden, Arps Honors Program. In addition, the East Elmhurst resident, who was born in New York of Jamaican immigrant parents, is the founding President of CCNY's Pre-Law Club.

Daniels said of her latest honor: "I believe through the Jeannette K. Watson Fellowship I will expand my interests and learn about different careers relating to social justice. I aspire to pursue a legal career but would also like to become a writer and devote time to humanitarian work."

Pereyra Monero, is a political science major who also has a legal career in mind. Her ultimate goal is to pursue a PhD in law.  

Born in Brooklyn, her Dominican parents moved back to their homeland when she was two years old. Pereyra Monero returned to New York at age 14 to finish high school.  At CCNY, she's on the Dean's list, is a Colin Powell Fellow, and received a Racial Justice Fellowship this year. 
"The Jeannette K. Watson Fellowship will allow me to become a true leader," said Pereyra Monero. "Through this fellowship I can explore different career paths and become someone who creates thought provoking narrative and strikes for proactive change." 
About the Watson Foundation
In 1961, the Watson Foundation was created as a charitable trust in the name of Thomas J. Watson Sr., best known for building IBM. Through one-of-a-kind programs, and over 100 global partnerships, the Foundation provides students with personal, professional and cultural opportunities to expand their vision, develop their potential, and build their confidence and perspective do so for others.
About the City College of New York
Since 1847, The City College of New York has provided a high-quality and affordable education to generations of New Yorkers in a wide variety of disciplines. CCNY embraces its position at the forefront of social change. It is ranked #1 by the Harvard-based Opportunity Insights out of 369 selective public colleges in the United States on the overall mobility index. This measure reflects both access and outcomes, representing the likelihood that a student at CCNY can move up two or more income quintiles. In addition, the Center for World University Rankings places CCNY in the top 1.8% of universities worldwide in terms of academic excellence. Labor analytics firm Emsi puts at $1.9 billion CCNY's annual economic impact on the regional economy (5 boroughs and 5 adjacent counties) and quantifies the "for dollar" return on investment to students, taxpayers and society. At City College, more than 16,000 students pursue undergraduate and graduate degrees in eight schools and divisions, driven by significant funded research, creativity and scholarship. CCNY is as diverse, dynamic and visionary as New York City itself. View CCNY Media Kit.