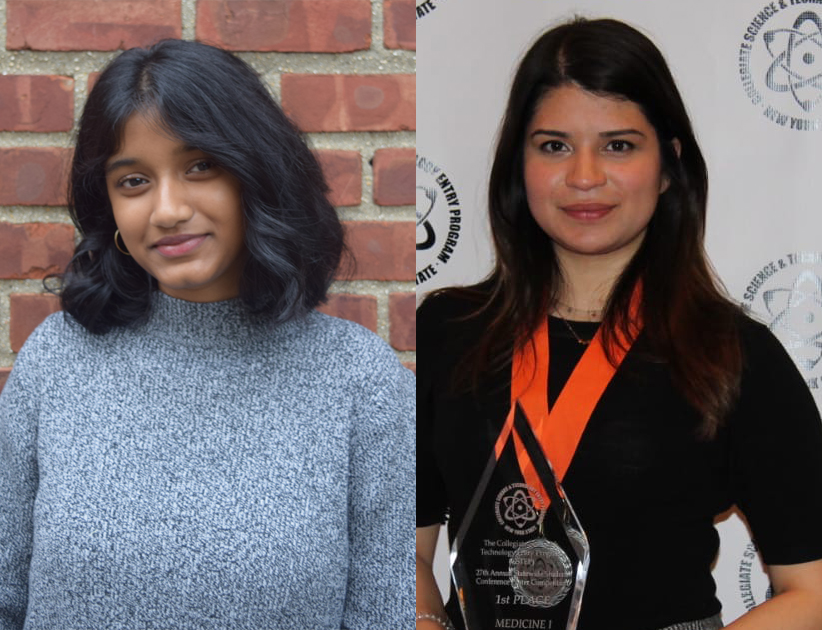 CCNY's Swathi Mettela [left] and Jazmin Morales are recipients of 2020 Jonas E. Salk Scholarships from CUNY.
Swathi Mettela, a 2019 graduate of The City College of New York's Macaulay Honors Program, and Jazmin Morales, from the Class of 2020, are recipients of Jonas E. Salk Scholarships awarded by The City University of New York. The scholarships recognize exceptional students who plan careers in medicine and the biological sciences.
As Salk Scholars, Mettela and Morales, who is the daughter of two City College alumni, will each receive a stipend of $8,000 to be allocated over three or four years of medical studies.

Following are bios of the two Scholars:

Swathi Mettela
Born in India, Mettela's family moved to the United States at age four. The Queens resident is graduating with a 3.9 GPA and a BA in anthropology. She will attend the Pennsylvania State College of Medicine. "I hope to pursue a career in clinical medicine and medical humanities. I'm interested in studying narratives of illness and disability in order to humanize healthcare delivery," said Mettela. 
In addition to the Salk Scholarship, Mettela's undergraduate honors include the St. Clair Drake Award in anthropology, a Certificate of Academic Achievement in Latin, and the Macaulay Honors College Meyer Scholarship. The latter honor took her to Maharashtra, India, in winter 2018 where she studied a community-based model of primary healthcare delivery in a rural setting through anthropological fieldwork. Mettela was also one of eight Clinton Fellows from CCNY at the Clinton Global Initiative University Oct. 2018 meeting in Chicago, Illinois, for her work through the Colin Powell Community Engagement fellowship.
Mettela's research interest in medical narratives led her from City College to Memorial Sloan Kettering Cancer Center in Manhattan to the University of Michigan. She now works as a community habilitation specialist at the non-profit, Sick Kids Need Involved People (SKIP) of New York. 
Jazmin Morales
Morales was a year-old when her mother, graduating magna cum laude with a BS in education, carried her onto the stage at CCNY to receive her diploma. Morales' father had graduated summa cum laude in 1994 with a BS in biology. 
Following in her parents' footsteps, Morales leaves CCNY with honors and a 3.7 GPA. The double major from Queens has earned a BS in biotechnology and BA in Jewish studies. She will attend Brandeis University on the neuroscience PhD track. 
Among her undergraduate accolades were the Sharon D. Cosloy Scholarship in Biology and the Pearl S. Rosenthal Scholarship; the National Institutes of Health's (NIH) RISE Scholar award, and the Michael and Irene Ross Scholar award. She also placed first in the NYS CSTEP Statewide Research Conference. 
In addition, Morales leaves CCNY with extensive research experience. This ranges from a stint at Syracuse University studying function of the actin cytoskeleton to a Summer Research Opportunity award in molecular, cellular, and organismic biology at Harvard University.  She also participated in numerous research conferences around the country
     
About the Salk Scholarship Program
The Salk Scholarship is named for Dr. Jonas Salk, a 1934 graduate of City College, who developed the first polio vaccine in 1955. Dr. Salk turned down a tickertape parade in honor of his discovery, and asked that the money be used for scholarships instead. New York City provided initial funding for the scholarships that year. 
About the City College of New York
Since 1847, The City College of New York has provided a high-quality and affordable education to generations of New Yorkers in a wide variety of disciplines. CCNY embraces its position at the forefront of social change. It is ranked #1 by the Harvard-based Opportunity Insights out of 369 selective public colleges in the United States on the overall mobility index. This measure reflects both access and outcomes, representing the likelihood that a student at CCNY can move up two or more income quintiles. In addition, the Center for World University Rankings places CCNY in the top 1.2% of universities worldwide in terms of academic excellence. Labor analytics firm Emsi puts at $1.9 billion CCNY's annual economic impact on the regional economy (5 boroughs and 5 adjacent counties) and quantifies the "for dollar" return on investment to students, taxpayers and society. At City College, more than 16,000 students pursue undergraduate and graduate degrees in eight schools and divisions, driven by significant funded research, creativity and scholarship. CCNY is as diverse, dynamic and visionary as New York City itself. View CCNY Media Kit.