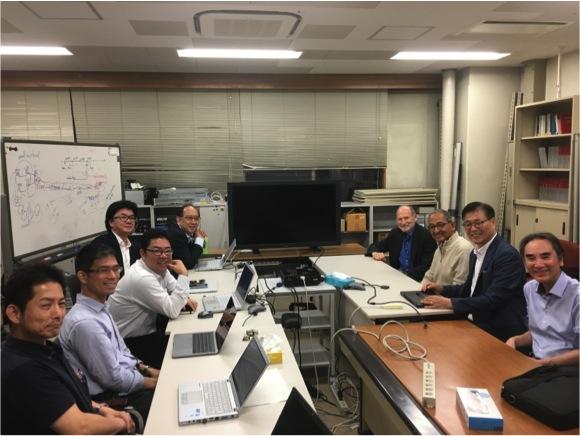 CCNY professors (right side) visiting Kyutech Institute in japan for pre-award meeting. From left: Abbe Mowshowitz, Tarek Saadawi, Myung Lee and Akira Kawaguchi.
Researchers from The City College of New York's Grove School of Engineering are working to safeguard the Internet from cyber attacks and are receiving a boost that could lead to more trustworthy networks.
The boost comes in the form of a grant from the National Science Foundation to explore advanced resilient Internet architectures. The $450,000 grant is in partnership with the Kuytech Institute in Japan and additional support from the Japanese Science Foundation. 
It will be used to address research challenges associated with enabling trustworthy networks supporting the Internet of Things (IoT), which encompasses everything connected to the Internet, and cyber-physical systems (CPS), which is a mechanism that is controlled or monitored by computer-based algorithms.  The IoT and CPS are becoming prevalent in everyday life, enabling a wide array of related emerging services and applications in cities and communities, including health, transportation, energy, utilities and other areas.
"The future Internet architecture must be able to deal with massive number of devices: computers, home appliances, autonomous connected vehicles," said principal investigator Tarek Saadawi, electrical engineering professor at the Grove School. "It is estimated that 20 billion devices will be connected to the Internet by 2020, and they must be able to sustain and be resilient to all kind of failures due to cyber attacks, traffic surges, node failure and others."
There are six researchers from Kuytech Institute in Japan and Saadawi along with three co-principal investigators from CCNY. Co-principal investigators include:
Akira Kawaguchi, professor and chair of computer science;
Myung Jong Lee, electrical engineering professor; and
Abbe Mowshowitz, computer science professor. 
The grant runs for three years and will cultivate a wider scholar exchange program between Kyutech and CCNY building on a cooperation that already exists between the two institutions. Saadawi adds that they plan on connecting the two campuses, through the Internet2, a dedicated global research network, aiming to have a virtual private network connection so that there is direct communication bandwidth between each of the research laboratories.
About The City College of New York
Since 1847, The City College of New York has provided a high quality and affordable education to generations of New Yorkers in a wide variety of disciplines. Today The Chronicle of Higher Education ranks CCNY #2 among public colleges with the greatest success in ensuring the social mobility of our student body; at the same time the Center for world University Rankings places it in the top 1.2% of universities worldwide in terms of academic excellence. More than 16,000 students pursue undergraduate and graduate degrees in eight professional schools and divisions, driven by significant funded research, creativity and scholarship. CCNY is as diverse, dynamic and visionary as New York City itself.  View CCNY Media Kit.