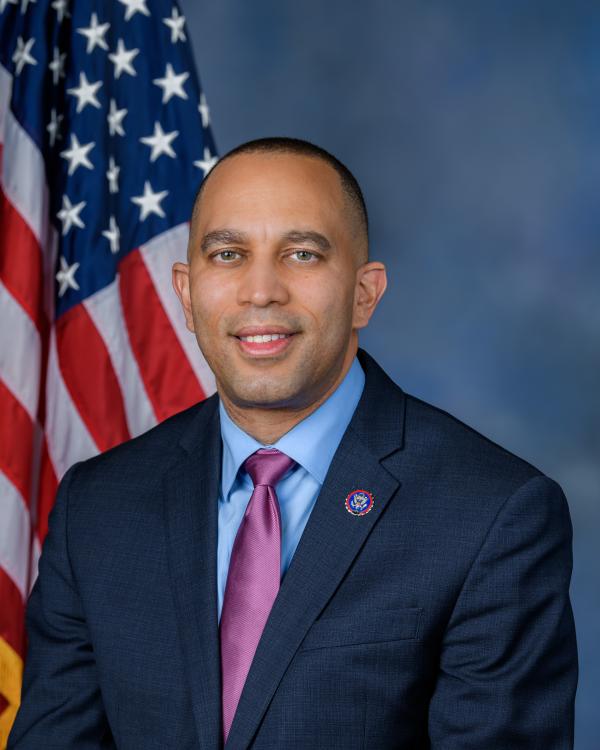 U.S. Rep. Hakeem Jeffries (D-N.Y.), Democratic Leader of the House of Representatives.
Democratic Leader of the U.S. House of Representatives Hakeem Jeffries (D-N.Y.) will be the featured guest at The City College of New York's sixth annual Stanley Feingold Lecture on American Politics, which will take place in the College's historic Great Hall on Wednesday, Feb. 22 at 4:30 p.m.
This year's event, "America at the Crossroads," will take the form of a conversation between Rep. Jeffries and Andrew Rich, the Richard J. Henley and Susan L. Davis Dean of the Colin Powell School for Civic and Global Leadership. The discussion will focus on leadership in an age of polarization, Rep. Jeffries' professional path and early career, and his advice for young people who care about making a difference.
CUNY Chancellor Félix V. Matos Rodriguez will make introductory remarks at the Feingold Lecture. Former New York State Assemblyman and Manhattan Democratic leader Keith L.T. Wright will introduce Rep. Jeffries.
"We are honored that Rep. Jeffries will join us for a conversation about the possibilities for progress at this challenging moment for our nation," said Dean Rich, a political scientist who specializes in American politics. "The event will give our students a chance to understand the inner workings of the legislative branch in an era of partisan polarization."
Now in his sixth term, Rep. Jeffries represents the Eighth Congressional District of New York in Brooklyn. He is the Democratic Leader in the House of Representatives. 
A tireless advocate for social and economic justice, Rep. Jeffries has worked hard to help residents recover from the devastation of the COVID-19 pandemic, reform our criminal justice system, improve the economy for everyday Americans, and protect our healthcare from right-wing attacks. He was also an impeachment manager during the first impeachment proceedings of President Donald Trump, the first African American man to serve in that role.
The Stanley Feingold Lecture Series on American Politics was established in 2017 by former students, in partnership with the Colin Powell School, to honor the memory of Stanley Feingold '46, a beloved, gifted professor of political science who taught at the College for almost four decades.
"Professor Feingold's commitment to his students and to this institution had a profound impact on the lives of so many of us," says Anita Altman, one of Stanley Feingold's former students. "Upon his death, a group of us who had the great fortune to study with him felt that establishing an annual lecture on American politics at CCNY, his alma mater and ours, would be a fitting tribute."
Stanley Feingold taught political science to a generation of CCNY students. To his students, he was far more than an exceptional teacher: he was a mentor, a guide for their lives, and an inspiration to live lives with integrity, intellectual honesty, and for many, to devote their lives to public service. He made his students intellectually hungry, challenged their assumptions, and taught them analytic rigor and careful reasoning. He retained an intellectual and teaching relationship with his students from the 1950s and 1960s for more than 50 years, until his death in 2017 at the age of 91.
The event is free and registration is required. Tickets to the event are available here.
About the Colin Powell School for Civic and Global Leadership
Established in April 2013, the Colin Powell School is home to the social science departments at CCNY as well as the core leadership development and public service programs of the College. With almost 4,000 students, and graduating the most CCNY students annually, the Colin Powell School mission is to transform the nation's most diverse student body into tomorrow's global leaders. Half of our students are immigrants; most come from lower income backgrounds. More than seventy percent are first-generation college students, and eighty percent are people of color. The Colin Powell School and City College remain among the most effective engines of economic and social mobility in the United States. The School is led by a faculty dedicated to the highest standards of research and to the university's democratic and public obligations. Read more about the Colin Powell School.
About the City College of New York
Since 1847, The City College of New York has provided a high-quality and affordable education to generations of New Yorkers in a wide variety of disciplines. CCNY embraces its position at the forefront of social change. It is ranked #1 by the Harvard-based Opportunity Insights out of 369 selective public colleges in the United States on the overall mobility index. This measure reflects both access and outcomes, representing the likelihood that a student at CCNY can move up two or more income quintiles. Education research organization Degree Choices ranks CCNY #1 nationally among universities for economic return on investment. In addition, the Center for World University Rankings places CCNY in the top 1.8% of universities worldwide in terms of academic excellence. Labor analytics firm Emsi puts at $1.9 billion CCNY's annual economic impact on the regional economy (5 boroughs and 5 adjacent counties) and quantifies the "for dollar" return on investment to students, taxpayers and society. At City College, more than 15,000 students pursue undergraduate and graduate degrees in eight schools and divisions, driven by significant funded research, creativity and scholarship. This year, CCNY launched its most expansive fundraising campaign, ever. The campaign, titled "Doing Remarkable Things Together" seeks to bring the College's Foundation to more than $1 billion in total assets in support of the College mission. CCNY is as diverse, dynamic and visionary as New York City itself. View CCNY Media Kit.