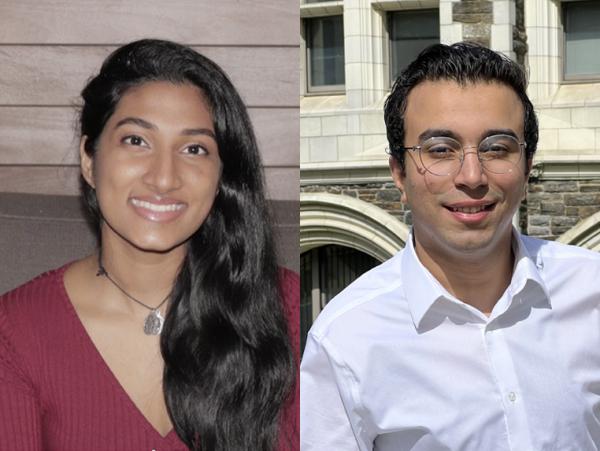 City College's 2022 Valedictorian Rose Mary Biju [left] and Salutatorian Ali Khalil.
Rose Mary Biju, a summa cum laude graduate of the Sophie Davis Biomedical Education Program with a 3.96 GPA, is The City College of New York's Class of 2022 Valedictorian. Ali Khalil, who is graduating summa cum laude with a 3.91 GPA and BS in biology, is the Salutatorian.
Both Biju and Khalil are immigrant members of a CCNY student body ranked among the most diverse in the nation by the Wall Street Journal/Times Higher Education. The Valedictorian and her Indian family emigrated to the U.S. when she was eight, while the Salutatorian arrived in New York from Egypt in 2016, barely speaking English.
Biju and Khalil are also both on track for medical careers. The former is in her first year at the CCNY-based CUNY School of Medicine (CSOM), while the latter will enter medical school next year. Brief bios follow.
Rose Mary Biju:
A Harlem resident during her studies, the Yonkers-raised Biju earned her BS in biomedical science last fall. She's currently in CSOM's Class of 2025 and plans a career as an emergency medicine physician among underserved populations.   
Biju was the recipient of numerous honors as an undergraduate. She was on the Dean's List from her freshman year and would add to her accolades the LCU Housing Grant Award, the Rita and Howard Shapiro Memorial Award, the Deans Medal for Academic Excellence and, for her volunteerism, the Empress EMT Sergeant Award for Zeal.
In addition to her service with Empress EMT, Biju gained clinical experience as a volunteer in summer 2019 at Samaritan Hospital in her native Kerala, India.  There she worked in the emergency room tending to injured patients, and shadowing physicians.  
At CSOM, Biju is a Rudin Research Fellow in the Community Health and Social Medicine Department.
Associate Medical Professor Nancy L. Sohler described Biju as "a stellar student, not only achieving high grades, but working impressively as a team player."
 
Biju said of her academic accomplishments: "My efforts are not innate talent or intellect, but rather, they are more a product of discipline, a discipline inspired by my faith, by faculty at City College and loved ones."
Ali Khalil:
When he landed at JFK six years ago determined to become a doctor, the biggest challenge Khalil faced was language: the new immigrant from lower Egypt could hardly speak English. So, he took additional English classes in his junior year in high school. It's paid off remarkably in a few short years. The Astoria, Queens, resident, is graduating with flying colors and accolades from mentors.

"Ali is the kind of smart, engaged student that makes teaching fun, and his academic record is probably in the top 3% I have ever seen at City College," said David J. Lohman, associate professor of biology. "He is intelligent, engaging, hard-working, and selfless. These are qualities that embody the ideals of The City College of New York."

Khalil's academic honors include the Dean's Honors List, the Ira & Cecille Weber Scholarship from the Division of Science, and the S Jay Levy Fellowship. The latter is  a year-long professional development experience for academically accomplished and career focused students. It culminates in a summer internship or research experience.

Off campus, he volunteers at New York-Presbyterian Hospital Queens where he provides patients with emotional support prior to surgery and assists clinical staff with their general duties.
With an interest in both oncology and cardiology, Khalil's main goal once a medical practitioner will be "bridging the gap between research and healthcare."
About the City College of New York
Since 1847, The City College of New York has provided a high-quality and affordable education to generations of New Yorkers in a wide variety of disciplines. CCNY embraces its position at the forefront of social change. It is ranked #1 by the Harvard-based Opportunity Insights out of 369 selective public colleges in the United States on the overall mobility index. This measure reflects both access and outcomes, representing the likelihood that a student at CCNY can move up two or more income quintiles. In addition, the Center for World University Rankings places CCNY in the top 1.8% of universities worldwide in terms of academic excellence. Labor analytics firm Emsi puts at $1.9 billion CCNY's annual economic impact on the regional economy (5 boroughs and 5 adjacent counties) and quantifies the "for dollar" return on investment to students, taxpayers and society. At City College, more than 16,000 students pursue undergraduate and graduate degrees in eight schools and divisions, driven by significant funded research, creativity and scholarship. CCNY is as diverse, dynamic and visionary as New York City itself. View CCNY Media Kit.