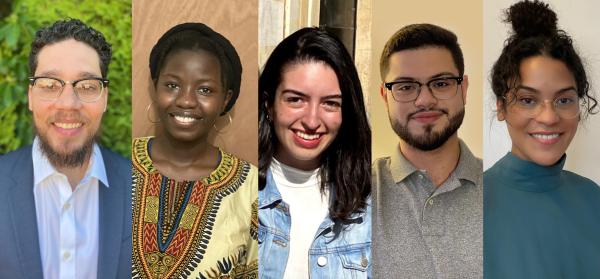 CCNY's 2021 Mellon Mays Fellows (from left) Jamar Brown, Hawa Diallo, Abigale Garpestad, Elijah Matos and Bebel Nilo.
Five undergraduates, the 29th cohort since The City College of New York joined the exclusive nationwide program, are the latest recipients of Mellon Mays Fellowships. The program's goal is to help increase diversity in the faculty ranks of higher education by identifying and supporting exceptional undergraduates from traditionally underrepresented groups. 
City College's 2021 Mellon Mays Undergraduate Fellows (MMUF) and their research focus are:

Jamar Brown
An anthropology major in the Colin Powell School for Civic and Global Leadership, Brown's current work is centered around abolition geographies and abolition ecologies. His research will be ethnographic in order to understand how members of racialized communities make-sense of the  spaces they live in. The research will also explore seeking liberation through abolition ecologies (fresh air, clean water, and sustainable food). The Long Island resident will enter his senior year this fall. 
Hawa Diallo 
Her research will focus on African immigrant communities and the entrepreneurship that exists within them. The Black studies major will also weave in the ways  African communities interact with native born Americans. Diallo is a resident of Crown Heights, Brooklyn.
Abigale Garpestad 
The anthropology major in the Colin Powell School will evaluate the Eurocentric gaze in a medical setting. Her research question is "how can we safely and ethically build an integrative health care system where indigenous knowledge is recognized as operative and significant?"  She's a Staten Island resident.
Elijah Matos
The Brooklyn native will participate in summer research prep courses with the University of Chicago. An English major and William E. Macaulay Scholar, his focus will be the development of meaning and identity in postmodern literature.
Bebel D. Nilo 
Also a Brooklynite, Nilo will research afrodiasporic music and its ties to liberation and insurrection. Namely, the influence of Jamaican music and sonic inventions that have influenced Latin music, said the Black studies major.
Since 2001, support from the Andrew W. Mellon Foundation is credited for guiding more than a dozen talented CCNY graduates to PhDs in the humanities and social sciences. There are now 30 Mellon Mays Fellows from City College in PhD programs.

In its 32nd year nationwide, the MMUF program is open to colleges and universities by invitation only.

City College hosted the 2021 Mellon Mays NY Regional Conference, which brought together approximately 100 participants from five other partner schools in New York City --Hunter College, Queens College, Brooklyn College, Barnard College and Columbia University. "Every spring, MMUF fellows from these schools and CCNY meet to share their research and to discuss the ways in which the humanities and the social sciences can contribute to a more equitable academia," said  Isabel Estrada, program director at CCNY.

About the City College of New York
Since 1847, The City College of New York has provided a high-quality and affordable education to generations of New Yorkers in a wide variety of disciplines. CCNY embraces its position at the forefront of social change. It is ranked #1 by the Harvard-based Opportunity Insights out of 369 selective public colleges in the United States on the overall mobility index. This measure reflects both access and outcomes, representing the likelihood that a student at CCNY can move up two or more income quintiles. In addition, the Center for World University Rankings places CCNY in the top 1.8% of universities worldwide in terms of academic excellence. Labor analytics firm Emsi puts at $1.9 billion CCNY's annual economic impact on the regional economy (5 boroughs and 5 adjacent counties) and quantifies the "for dollar" return on investment to students, taxpayers and society. At City College, more than 16,000 students pursue undergraduate and graduate degrees in eight schools and divisions, driven by significant funded research, creativity and scholarship. CCNY is as diverse, dynamic and visionary as New York City itself. View CCNY Media Kit.