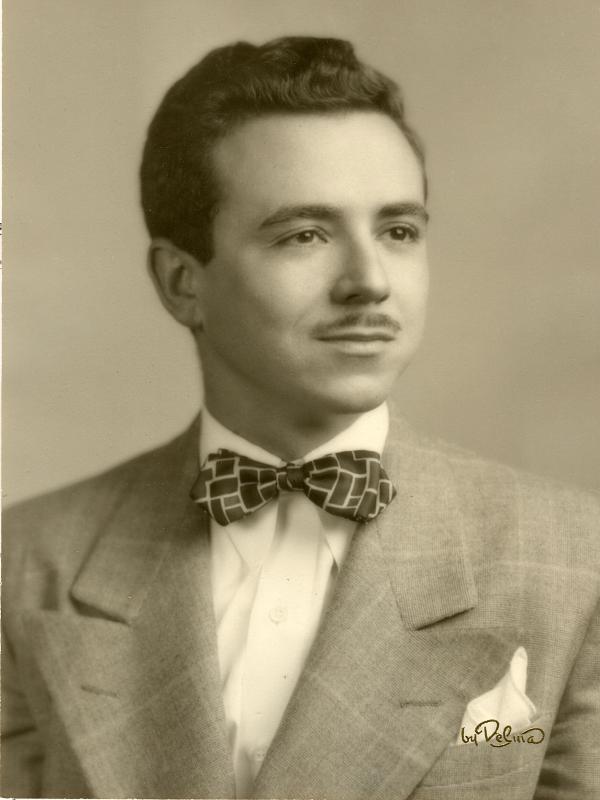 Alaina Dall has announced that she will make a monthly gift to the Bronx High School of Science Specialized High School Scholarship, building on previous annual donations she made in honor of her father, Leon Dall, a member of The City College of New York Class of 1951.
The Bronx High School of Science Specialized High School Scholarship is one of several scholarships that comprise the The CCNY Specialized High Schools Scholarship Project, which originated in December 2001.
Born on Feb. 9, 1927 to Samuel and Gertrude Dall (nee Berlin), Jewish immigrants from present-day Latvia and Lithuania, Leon attended New York City public schools, working nights and weekends at his father's restaurant, Sam's Deli on East 14th Street in Manhattan. The family lived in Washington Heights until moving to Morris Avenue in the Bronx in 1942.
Graduating from Bronx Science in January 1944, Dall entered CCNY a month later. During his time at the College, he trained six days a week as a member of the boxing team – and kept his fighting weight of 135 lbs. throughout his life. "In 1947 I started back to school at City College of New York and wanted to get involved in some sport. I decided to try out for the boxing team even though I couldn't see the 'E' on top of the eye chart," he later wrote.
Enlisting in the merchant marine in August 1944, a week after earning his commercial radio operator's license, he spent his summers at sea. "I'd finish up a year at CCNY and, come the middle of June I'm out at sea, heading for Trinidad or Bahia," he wrote years later. "I was able to get in two 38-day cruises during the summer vacation. Passengers paid a little over $1,000 for the cruise. I earned about $1,000 during the summer. More than enough to cover my expenses during the year."
After graduating with a degree in electrical engineering in June 1951, Dall worked in New York and Indiana, then moved to Los Angeles where "engineers were moving west in general to find the gold in the street," he wrote. Working as an electronics and computer components salesman for an engineering firm in West Los Angeles in 1960, he met a secretary named Sue Johnson. The couple eloped in Malibu in 1961 and later moved to Woodland Hills, Calif., where they raised their three children, Alaina, Laura and Stephen.
Dall remained busy after retiring in 1982 at age 65. His inquisitive nature always compelled him to read, to take adult education classes, and to complete the New York Times crossword puzzle daily. He also wrote about his life, bequeathing stories of his adventures to succeeding generations. The ham radio was one of his favorite hobbies, as he kept up his Morse Code skills and communicated with fellow operators around the world. He was a member of a boat club and continued to spend time on the water. He worked out at the gym, tended to his vegetable garden, and maintained his busy schedule until he passed away on July 7, 2009 at age 82.
"Knowledge and education were very important to him," Alaina said. "This ongoing donation is my way of honoring his memory, his New York roots, and the importance of education in his life. I think it would mean a lot to him to pass on opportunities in his name to students at Bronx Science, and to support their CCNY education."
About The City College of New York
Since 1847, The City College of New York has provided a high-quality and affordable education to generations of New Yorkers in a wide variety of disciplines. CCNY embraces its position at the forefront of social change. It is ranked #1 by the Harvard-based Opportunity Insights out of 369 selective public colleges in the United States on the overall mobility index. This measure reflects both access and outcomes, representing the likelihood that a student at CCNY can move up two or more income quintiles. Education research organization Degree Choices ranks CCNY #1 nationally among universities for economic return on investment. In addition, the Center for World University Rankings places CCNY in the top 1.8% of universities worldwide in terms of academic excellence. Labor analytics firm Emsi (now Lightcast) puts at $1.9 billion CCNY's annual economic impact on the regional economy (5 boroughs and 5 adjacent counties) and quantifies the "for dollar" return on investment to students, taxpayers and society. At City College, more than 15,000 students pursue undergraduate and graduate degrees in eight schools and divisions, driven by significant funded research, creativity and scholarship. This year, CCNY launched its most expansive fundraising campaign, ever. The campaign, titled "Doing Remarkable Things Together" seeks to bring the College's Foundation to more than $1 billion in total assets in support of the College mission. CCNY is as diverse, dynamic and visionary as New York City itself. View CCNY Media Kit.​