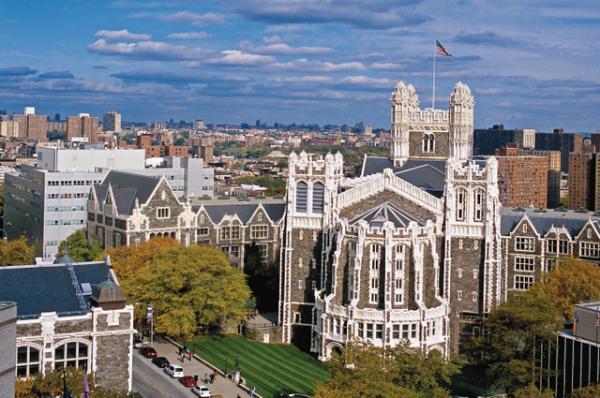 Since its founding, The City College of New York has established relationships with some of the city's most elite high schools. These relationships provide more than a pipeline to a City College education; they forge a lifetime of connections and friendships, as evidenced by the bonds between generations.
The CCNY Specialized High Schools Project originated in December 2001, when Larry Gralla '51 and Yvette Gralla '52 launched the Stuyvesant-CCNY Scholarship Project as part of a fundraising effort organized by the former City College Fund. This scholarship supports high-achieving students from Stuyvesant High School, Larry Gralla's alma mater, with free tuition and/or generous stipends that they can use for books, travel or bare necessities. Many of these students are accepted into the highly competitive Macaulay Honors College and the Sophie Davis School of Biomedical Education (now the CUNY School of Medicine). They come with impressive high school records, with high GPAs and SAT scores between 1480 and 1600.
The program has since expanded to include the Bronx High School of Science and Brooklyn Technical High School. In 2009, the New Era Scholarship was created for students from 11 (Bayside HS, Benjamin N. Cardozo HS, Dewitt Clinton HS, Fort Hamilton HS, Francis Lewis HS, Forest HIlls HS, Hunter College HS, Fiorello H. LaGuardia HS of Music & Art and Performing Arts, Midwood HS, Edward R. Murrow HS, and Townsend Harris HS) selected New York City high schools whose GPAs are in the 85th to 100th percentile.
That is not the entire story, however; this is a story that is best told from the perspectives of the students who have benefited from the generosity of the donors, as well as those of the donors themselves. We would love to feature more stories of donors who support these funds and students who benefit. If you would like to be featured please send an email to gi%76e@ccny.cuny .%65du" rel="nofollow"> give@ccny.cuny.edu with your experience. 
Scholarship Projects:
Stuyvesant-CCNY Scholarship Project
Founded by Larry Gralla '51 and Yvette Gralla '52 in December 2001
Bronx Science-CCNY Scholarship Project
Founded by Joyce Baum '53 in December 2002 in memory of Gerald Baum '51
Brooklyn Tech-CCNY Scholarship Project
Founded by Joseph Depace in December 2006
New Era - CCNY Scholarship Project
Founded by Larry Gralla '51 and Yvette Gralla '52 in May 2009
About the City College of New York
Since 1847, The City College of New York has provided a high-quality and affordable education to generations of New Yorkers in a wide variety of disciplines. CCNY embraces its position at the forefront of social change. It is ranked #1 by the Harvard-based Opportunity Insights out of 369 selective public colleges in the United States on the overall mobility index. This measure reflects both access and outcomes, representing the likelihood that a student at CCNY can move up two or more income quintiles. In addition, the Center for World University Rankings places CCNY in the top 1.8% of universities worldwide in terms of academic excellence. Labor analytics firm Emsi puts at $1.9 billion CCNY's annual economic impact on the regional economy (5 boroughs and 5 adjacent counties) and quantifies the "for dollar" return on investment to students, taxpayers and society. At City College, more than 16,000 students pursue undergraduate and graduate degrees in eight schools and divisions, driven by significant funded research, creativity and scholarship. CCNY is as diverse, dynamic and visionary as New York City itself. View CCNY Media Kit.