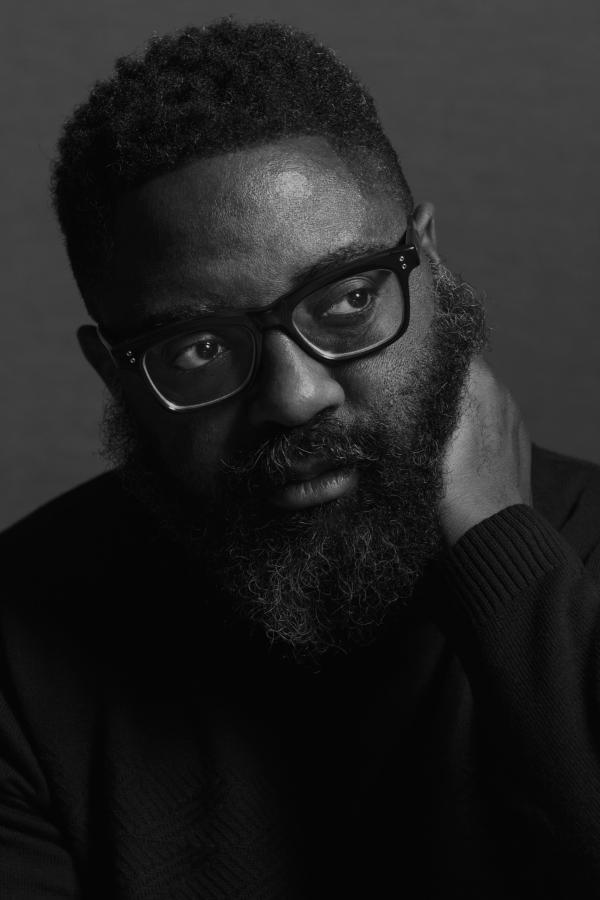 Renowned poet Reginald Dwayne Betts. Photo credit: Giancarlo Valentine
Celebrated poet, memoirist and educator Reginald Dwayne Betts is the featured poet at the 50th annual City College Poetry Festival on May 6 in  CCNY's Marian Anderson Theater. Dubbed "the Woodstock of the Spoken Word," New York's longest-running poetry celebration will also include Ukrainian essayist and translator Vasyl Makhno as guest poet. The all-day event that features budding poets from up to 50 public schools, runs from 9:15 a.m. to 5 p.m.  
"The City College Poetry Festival is the democratic voice of poetry in New York City public schools," said Pamela Laskin, a lecturer in CCNY's English department and director of the CCNY Poetry Outreach Center, which produces the festival. "Its assumption is there are many poets, and they all have terrific stories to tell. This would make Walt Whitman proud." 
Upwards of 150 students from as many as 50 schools – both elementary and junior high -- are expected to recite their poems, with the top three winners receiving the Poetry Prize. 
The festival is "something the children always look forward to," said Deborah Newman, a former teacher at P.S. 368 in Brooklyn, who had been attending the festival for over 13 years.  "It's a blessing, something that is real to them, and it's an entire year of poetry for the children, leading up to this celebration. The teachers and the administrators love it, too."
Some of the children who participated in the festival's early years are now teachers who bring their classes. "In 1975, I introduced a third grade student to the audience of 400 cheering students, teachers, friends and family; in 1996, this same individual returned to the festival at City and introduced the readers from her fourth grade class," recalls Barry Wallenstein, CCNY professor emeritus and former festival director. 
"Over the past four decades, this event has become a place of reunion and affirmation for City College alumni, returning teachers, student-poets and friends of the College. I hope it and the important activities of the Poetry Outreach Center continue long beyond 2022."
The festival concludes with a reading by Reginald Dwayne Betts. He continues the tradition of notable poets who've graced the festival since 1972. They include Paul Simon, Allen Ginsberg, Gwendolyn Brooks, Muriel Rukeyser, Adrienne Rich, Philip Levine, Billy Collins (read all).
About Reginald Dwayne Betts
In October 2018, The New York Times Magazine published Betts' long essay "Getting Out."  Several months later, the piece was awarded a National Magazine Award.  The publication was another example of Betts entering into a new genre and bringing the same depth and richness of self-reflection and exploration of the central problem on this generation: incarceration and its effects on families and communities. Read more.
About Vasyl Makhno 
Based in the U.S., Vasyl Makhno's numerous honors include the Encounter Award, The Ukranian-Jewish Literary Prize; and the Uri Shevelov Prize (twice). He was also twice a finalist for the BBC Book of the Year Award. Makhno is the author of 11 collections of poetry. His most recent, "A Paper Bridge," appeared in 2017. He has also published two book of essays: "The Gertrude Stein Memorial Cultural and Recreation Park"  and "Horn of Plenty." Read more.

The American Academy of Poets debuts this year as a co-promotional sponsor. Click here for a list of all the sponsors.
For more information about the 50th CCNY Spring Poetry Festival, please contact Pamela L. Laskin at ccnypoetryoutreachcenter@gmail.com .
About the City College of New York
Since 1847, The City College of New York has provided a high-quality and affordable education to generations of New Yorkers in a wide variety of disciplines. CCNY embraces its position at the forefront of social change. It is ranked #1 by the Harvard-based Opportunity Insights out of 369 selective public colleges in the United States on the overall mobility index. This measure reflects both access and outcomes, representing the likelihood that a student at CCNY can move up two or more income quintiles. In addition, the Center for World University Rankings places CCNY in the top 1.8% of universities worldwide in terms of academic excellence. Labor analytics firm Emsi puts at $1.9 billion CCNY's annual economic impact on the regional economy (5 boroughs and 5 adjacent counties) and quantifies the "for dollar" return on investment to students, taxpayers and society. At City College, more than 16,000 students pursue undergraduate and graduate degrees in eight schools and divisions, driven by significant funded research, creativity and scholarship. CCNY is as diverse, dynamic and visionary as New York City itself. View CCNY Media Kit.