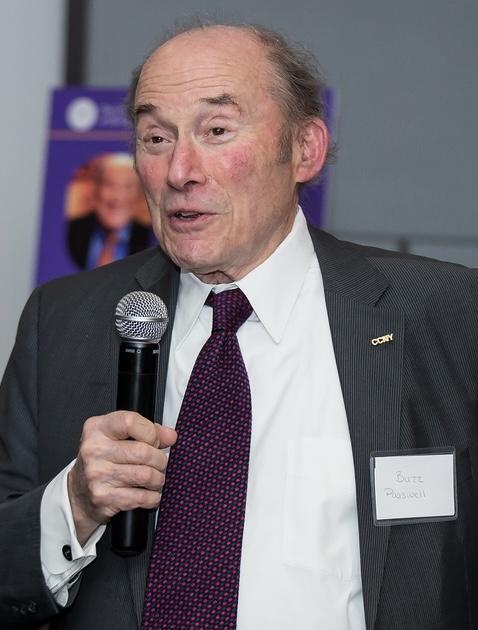 Dr. Robert Paaswell, 2023 CCNY President's Medal Recipient. Photo credit: Eugene Chiu

Robert E. Paaswell, the internationally recognized expert in public transportation issues and consulting, is The City College of New York's 2023 President's Medal recipient. A Distinguished Professor of Civil Engineering Emeritus at CCNY, Paaswell received the medal from College President Vincent G. Boudreau at CCNY's Annual President's Circle dinner in Manhattan.
The President's Medal is awarded for distinguished achievement and public service. Past recipients include: Nelson Mandela; Nobel Laureates Robert Aumann and Leon M. Lederman; Coretta Scott King, Gen. Colin L. Powell, USA (ret.), astronaut Mario Runco Jr.,  Sen. Hillary Rodham Clinton; and Benjamin B. Ferencz, who was 99 and the last surviving former Nuremberg war crimes trials prosecutor when he received the medal in 2019.  The 2002 Medal was awarded to the men and women of New York City's uniformed services for their heroic service on and after September 11, 2001.
This is the latest of Paaswell's numerous honors, which include the U.S.  Department of Transportation Secretary's Award for Superior Service, The Council of University Centers Award for Distinguished Leadership and the COMTO Award for Service. The latter is presented by the Conference of Minority Transportation Officials (COMTO), the leading national advocate for employment diversity, inclusion and contracting opportunities in the multi-modal, multi-billion-dollar transportation industry.
"Making this award to Buz Paaswell–only the second such allocation I've made as president–is a true joy," said President Boudreau. "Professor Paaswell is a lifelong public servant, having devoted his entire life not just to transportation and civil engineering, but to the application of his expertise to alleviating the burdens on underserved, under-resourced communities.  Moreover, his love of our students and CCNY is virtually a defining aspect of his personality.  Buz Paaswell is City College, through and through, and he richly deserves this recognition." 
Paaswell credited the generations of students he's taught and mentored at CCNY, and his tremendous colleagues, for the prestigious accolade.
"Incredible and engaged students, many of whom have gone on to positions of leadership," he noted. "Terrific colleagues of many disciplines, and the problems and rewards of New York City -- these have been the driving forces of a rewarding career centered at CCNY. CCNY, quite simply, is just an amazing place. How fortunate I have been to spend  the last 33 years here."
 
About Dr. Robert Paaswell
Among the high profile positions he's held, Paaswell served as CCNY Interim President from 2009-2010. During his tenure, he raised the intellectual profile of the College, energized its faculty, focused the administration on to its core mission of serving students and faculty, and engaged the Upper Manhattan community. He raised $29.4 million in gifts in his affiliated role as President of the City College 21st Century Foundation, and prepared the college for a transition to new leadership.
He is the emeritus Director of the College's University Transportation Research Center, Region II, which he led for 19 years and the founding Director of the CUNY Institute for Urban Systems (CIUS), which he led until this year. He served as Site Director of the new NSF sponsored Industry/University Cooperative Research Center: Sustainably Integrated Buildings and Sites Center. He is a founder of the Rangel infrastructure Workforce Initiative (2020) – concerned with training a 21st century workforce for the infrastructure industry. 
Prior to his roles at CCNY, Paaswell served as the CEO (President) of the Chicago Transit Authority – the nation's second largest transit system (1986-1989). He has authored two books, twelve book chapters, and over 150 technical publications and reports. He is a sought-after speaker in his field with over 200 invited technical presentations, and a contributor of articles to the World Book Encyclopedia, is listed in "Who's Who in the World, "Who's Who in America", "Who's Who in Engineering", and "Who's Who in Finance and Industry."
He has served as the principal investigator for over 100 sponsored research grants of approximately $80 million. His current research concerns urban sustainability, technology and its cultural impacts on transport and urban form and transit system budgeting and finance, including both operating and capital budgets; transit investment strategies and issues of transit system governance. He is leading CIUS in innovative research and programs addressing issues of urban sustainability. CIUS is the home of the Building Performance Laboratory (BPL) – a regional and national success and contribution to green technology and sustainable cities.
About The City College of New York
Since 1847, The City College of New York has provided a high-quality and affordable education to generations of New Yorkers in a wide variety of disciplines. CCNY embraces its position at the forefront of social change. It is ranked #1 by the Harvard-based Opportunity Insights out of 369 selective public colleges in the United States on the overall mobility index. This measure reflects both access and outcomes, representing the likelihood that a student at CCNY can move up two or more income quintiles. Education research organization Degree Choices ranks CCNY #1 nationally among universities for economic return on investment. In addition, the Center for World University Rankings places CCNY in the top 1.8% of universities worldwide in terms of academic excellence. Labor analytics firm Emsi (now Lightcast) puts at $1.9 billion CCNY's annual economic impact on the regional economy (5 boroughs and 5 adjacent counties) and quantifies the "for dollar" return on investment to students, taxpayers and society. At City College, more than 15,000 students pursue undergraduate and graduate degrees in eight schools and divisions, driven by significant funded research, creativity and scholarship. This year, CCNY launched its most expansive fundraising campaign, ever. The campaign, titled "Doing Remarkable Things Together" seeks to bring the College's Foundation to more than $1 billion in total assets in support of the College mission. CCNY is as diverse, dynamic and visionary as New York City itself. View CCNY Media Kit.