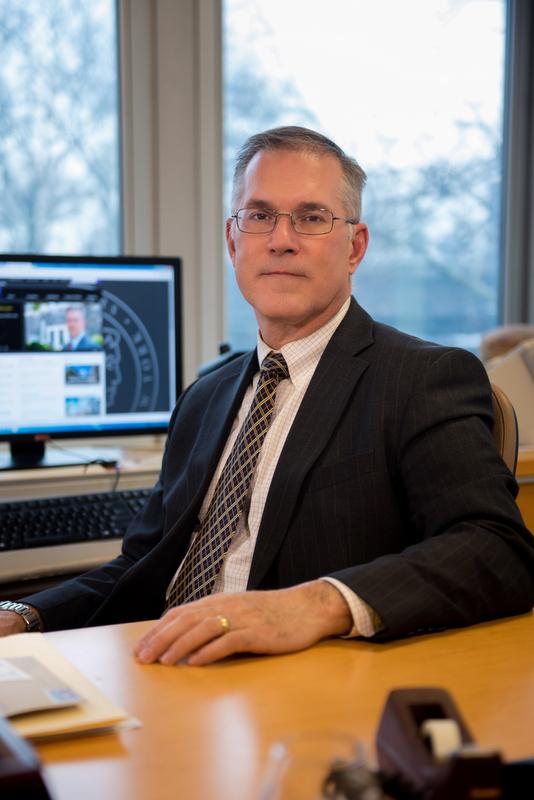 Dr. Vincent Boudreau, CCNY's 13th President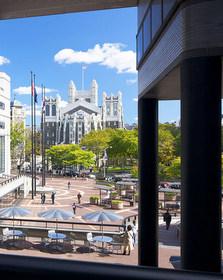 The City College of New York
Dignitaries set for Presidential Investiture ceremony, March 29
In a transformative moment for the nation's first tuition free public college, scholar-activist Vincent Boudreau is to be sworn in as 13th President of The City College of New York in an investiture ceremony starting 5:30 p.m. on March 29 in CCNY's Great Hall. He is the second faculty member there to rise to the position of CCNY president in the institution's 171-year history. Fredrick Bertrand Robinson, CCNY's 5th president (1927-1939), was the first.
A professor of political science at CCNY who's also on the faculty at the Graduate Center, CUNY, Boudreau was appointed president by the City University of New York Board of Trustees on December 4, 2017. He previously served as interim president for one year.
"City College occupies a very special place in the history of this city, and it continues to be an irreplaceable beacon of opportunity for high quality education for New Yorkers," said James B. Milliken, Chancellor of the City University of New York. "Vince Boudreau is steeped in the CCNY tradition and reflects its values, first as a faculty member, then as dean of the Colin Powell School, and now as President. During his time as interim President Dr. Boudreau demonstrated steady, accountable, and wise leadership, and I am absolutely convinced he will provide the leadership as president that City College and the many it serves deserve."
 William C. Thompson Jr., Chairperson of the CUNY Board of Trustees, said: "As interim president and, before that, inaugural dean of the Colin Powell School, an administrator, scholar and champion of the college, Dr. Boudreau has exemplified the leadership and dedication that City College needs to chart its future course. The City College that he leads -- and envisions -- is one that hews to its core historic mission of access, inclusion and excellence."
General Colin L. Powell USA (ret.), a distinguished member of CCNY's Class of 1958, joined in hailing Boudreau.
"Vince Boudreau brought to the Colin Powell School a passion and a dedication to infuse our students not only with a degree but also a commitment to serve others and to be leaders," noted the former U.S. Secretary of State. "I am sure he will do the same for all of City College. He is a distinguished academic and a powerful leader."
Boudreau said the appointment is the greatest honor of his life: "From the first days that I stepped onto the City College campus, its vitality and potential captivated me. To be charged with stewarding what the college has been, and what it can become, is a sacred thing and the greatest honor of my life."
He assumes leadership of CUNY's founding college after serving as founding dean of CCNY's Colin Powell School for Civic and Global Leadership. During his tenure, he led an effort that raised more than $50 million in support of the Colin Powell School and campus-wide programs.
Prior to leading the Colin Powell School, he headed the Colin Powell Center for Leadership and Service at City College from 2002 through 2013.
​As president, Boudreau invigorates CCNY, with its legacy of access, opportunity, and transformation, with renewed purpose and dynamism. A specialist in the politics of social movements, particularly in Southeast Asia, he's an advocate for the rights of undocumented students.
In addition, Boudreau has declared CCNY as a campus where all people are welcome, protected, and celebrated.
His latest book is "Resisting Dictatorship: Repression and Protest in Southeast Asia" (Cambridge University Press).
Boudreau is a graduate of Cornell University, where he earned his Ph.D. in 1991.
Click here for more information on the investiture ceremony. 
About The City College of New York
Since 1847, The City College of New York has provided a high quality and affordable education to generations of New Yorkers in a wide variety of disciplines. Today The Chronicle of Higher Education ranks CCNY #2 among public colleges with the greatest success in ensuring the social mobility of our student body; at the same time the Center for world University Rankings places it in the top 1.2% of universities worldwide in terms of academic excellence. More than 16,000 students pursue undergraduate and graduate degrees in eight professional schools and divisions, driven by significant funded research, creativity and scholarship. CCNY is as diverse, dynamic and visionary as New York City itself.  View CCNY Media Kit.