General Colin L. Powell, USA (Ret.)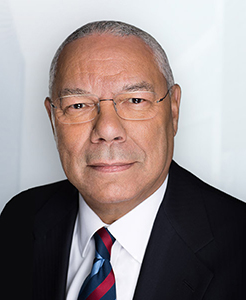 General Colin L. Powell (USA, Ret.)
April 5, 1937 - October 18, 2021
Founding Chair of the Board of Visitors
Colin Powell School for Civic and Global Leadership
For more than 50 years, General Colin L. Powell, USA (Ret.) devoted his life to public service in senior military and diplomatic positions across four presidential administrations. His deep commitment to democratic values, diversity, and freedom changed the world we inhabit.
General Powell was a man of extraordinary accomplishment: a trailblazer, a role model, and an inspiration. And he was a proud son of City College, a person from humble origins who never forgot where he started. The son of Jamaican immigrants, born in Harlem and raised in the South Bronx, he was educated in New York City public schools; and when it came to college, it was CCNY or nowhere, as he often reminded us. At CCNY, he earned a degree in Geology and joined ROTC, through which he discovered his purpose and direction. He went on to greatness, but he never left this College behind.
General Powell served in the United States Army for 35 years, rising to the rank of Four-Star General, and serving as the Chairman of the Joint Chiefs of Staff under Presidents' George H. W. Bush and William Jefferson Clinton. Under President George W. Bush, Powell was appointed the 65th Secretary of State and was unanimously confirmed by the U.S. Senate. As Secretary of State, he led the State Department in major efforts to address and solve regional and civil conflicts in the Middle East, Sudan, Congo, Liberia, the Balkans, Cyprus, Haiti, Northern Ireland, Afghanistan, Iraq and elsewhere.
General Powell founded CCNY's Colin L. Powell Center for Leadership and Service in 1997. The Center was created with the mission to develop new generations of publicly engaged leaders and promote civic involvement at City College. In 2013, CCNY's Board of Trustees established the Colin Powell School for Civic and Global Leadership to honor General Powell's commitment to City College and to its students and goals. General Powell was the Founder and Chairman Emeritus of America's Promise Alliance, dedicated to forging a strong and effective partnership alliance committed to seeing that children have the fundamental resources they need to succeed. In addition, General Powell served on the board of directors of the Council on Foreign Relations, the Smithsonian Institution's National Museum of African American History and Culture, on the Executive Leadership Cabinet of the Martin Luther King, Jr. Memorial, and as the Honorary Chairman of the Education Center for the Vietnam Veterans Memorial. His best-selling autobiography, My American Journey, has been published in more than a dozen languages. His second book, It Worked for Me (May 2012), revealed the lessons that shaped his life and career.
General Powell was married for nearly 60 years to the former Alma Vivian Johnson of Birmingham, Alabama. They lived in McLean, Virginia and had three children, including Linda Powell, a member of the Colin Powell School Board of Visitors, and four grandchildren.
The Colin Powell School reflects his vision, his passion, and his never-ending belief in the essential nature of this place. General Powell committed himself to every student who walked through our doors. He loved to hear their stories and tell them his own. He would encourage them to work hard and pursue their dreams. He always reminded them—and all of us—that "they're just like I was" some 65 years ago now.
General Powell never missed a Colin Powell School graduation, and he took the time to shake the hand of every student earning a degree. It's hard to imagine graduation without him. But this school remains his, and every graduate of the Colin Powell School is a part of his legacy. He was proud of this place, and we are even prouder to have had him as our leader.
---
Excerpt from an "Interview of Gen. Powell upon the founding of the Colin Powell School" Urban U is a CUNY-TV Magazine show about CUNY students, faculty, alumni and programs. The stories highlight the quality and rewards of a CUNY education, one that enables people to achieve great things.
Last Updated: 02/13/2023 21:57