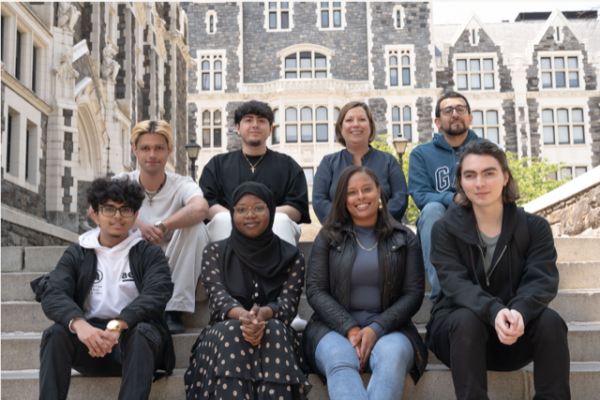 CCNY's 2023 Mellon Mays cohort. From left (back row): Devin Chand Mehra, Michael Navas, CCNY Mellon Mays Program Director Isabel Estrada; and Allan Romero. Front row from left: Ridwan Rahman, Ramatoulaye Diarra, Kiara Severino and Sachem Torres.
Seven undergraduates, the 31st cohort since The City College of New York joined the exclusive nationwide program, are the latest recipients of Mellon Mays Fellowships. The program's goal is to help increase diversity in the faculty ranks of higher education by identifying and supporting exceptional undergraduates from traditionally underrepresented groups. 
The students, all juniors, their majors and research topics are:
Ramatoulaye Diarra (sociology) – she will investigate solutions to lessen food insecurity and increase communities' independence. 
Devin Chand Mehra (philosophy) – his research will focus on ontology, a subfield of philosophy. Ontology is the study of the nature of things, which is often performed via the use of categories. 
Michael Navas (history BA/MA) – Navas, who's in CCNY's combined BA/MA program in history, will study the different roles colonialism played in the spread and emergence of modernity in the 19th and 20th centuries.
Ridwan Rahman (history) – mainstream history is devoid of Medieval South Asian influences on other parts of the world. Rahman hopes to change that. She specifically plans to focus on the influences that the Sultanate of Bengal had in Southeast Asia, the Middle East, and East Africa in the late medieval period of India.
Allan Romero (history) – his research goal is the creation of a timeline that covers political, social, and economic events of 15th century Spain.
Kiara Severino (history BA/MA) – another BA/MA student, Severino will research how racial mixing and mestizaje -- the  process of interracial and/or intercultural mixing --  affected the people of the African diaspora during the Mexican Spanish Colonial era.
Sachem Torres (history/philosophy) – the double major will look into the circumstances that led to the creation of safe spaces for people who would be queer, as well as, how these safe spaces evolved with their communities.
Since 2001, support from the Andrew W. Mellon Foundation is credited for guiding nearly two dozen talented CCNY graduates to PhDs in the humanities and social sciences. There are more than 30 Mellon Mays Fellows from City College in PhD programs. Nationally, 1,100 Mellon Fellows have completed PhDs with 429 currently on track for doctorates. 
About the City College of New York
Since 1847, The City College of New York has provided a high-quality and affordable education to generations of New Yorkers in a wide variety of disciplines. CCNY embraces its position at the forefront of social change. It is ranked #1 by the Harvard-based Opportunity Insights out of 369 selective public colleges in the United States on the overall mobility index. This measure reflects both access and outcomes, representing the likelihood that a student at CCNY can move up two or more income quintiles. Education research organization Degree Choices ranks CCNY #1 nationally among universities for economic return on investment. In addition, the Center for World University Rankings places CCNY in the top 1.8% of universities worldwide in terms of academic excellence. Labor analytics firm Emsi puts at $1.9 billion CCNY's annual economic impact on the regional economy (5 boroughs and 5 adjacent counties) and quantifies the "for dollar" return on investment to students, taxpayers and society. At City College, more than 15,000 students pursue undergraduate and graduate degrees in eight schools and divisions, driven by significant funded research, creativity and scholarship. This year, CCNY launched its most expansive fundraising campaign, ever. The campaign, titled "Doing Remarkable Things Together" seeks to bring the College's Foundation to more than $1 billion in total assets in support of the College mission. CCNY is as diverse, dynamic and visionary as New York City itself. View CCNY Media Kit.