DENNIS OVERBYE, SCIENCE EDITOR, THE NEW YORK TIMES
Thursday, May 14, 2015 from 12:30 pm to 1:30 pm
Marshak Science Building, Room 418N
The City College of New York
160 Convent Avenue
New York, NY  10031
 
------------------------------------------------------------------------------
ADVENTURES OF A MEDIA DINOSAUR IN THE NEW WORLD



DENNIS OVERBYE received his B.S. in physics from M.I.T. in 1966. After a career of working for Boeing and other companies, he branched into writing and served in senior editorial positions in the Sky and Telescope andDiscover magazines. In 1998 he joined the staff of The New York Times where he is presently a science editor.

Mr. Overbye covers a wide spectrum of physics-related topics, his reporting having ranged from zero-gravity fashion shows to the death of the Earth and the fate of the universe. He has written two books, "Lonely Hearts of the Cosmos" and "Einstein in Love," and has published articles in Time magazine, Science, and The Los Angeles Times among other publications. In 2014 he was a finalist for the Pulitzer Prize for Explanatory Reporting.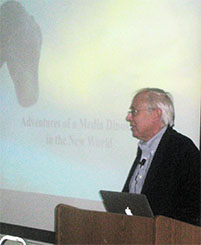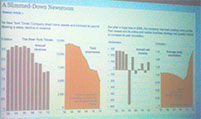 Adventures of a Media Dinosaur                                                      A Slimmed-Down Newsroom
                    in the New World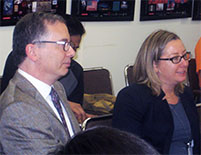 Audience: Dean Tony Liss, Sarah Fine                                                               Visitors
                                                                     Answering questions...