Dear Campus Community.
I write to announce that I've asked Tony Liss, currently serving as the interim provost, to continue in that job on a permanent basis. I've had the opportunity to work with Tony in this capacity for some time now, and have watched him take leadership in a number of crucial areas of campus life, among others: our strategic planning process, the Middle States accreditation work, and the development of a new approach to our budget. I anticipated that Tony would be a good partner when I asked him to serve as interim, and have deepened my confidence in his leadership and vision over the course of these past months.
The search committee that met to review candidate files worked long and hard, and they have my deep gratitude. This is tough work and they approached it with seriousness of purpose and a commitment to the good of our college.
I hope you will join me in congratulating Tony and welcoming him as CCNY's new provost.
Sincerely,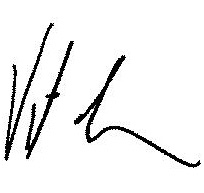 Vince Boudreau
President