Students from hurricane-ravaged Puerto Rico and the U.S. Virgin Islands will pay in-state tuition for the 2017-18 academic year, the CUNY Board of Trustees voted unanimously on Monday. Affected full-time students will pay $6,350 in tuition for the year, rather than the $17,400 that students from outside the state pay.
The aid follows a call by Gov. Andrew M. Cuomo for both CUNY and SUNY to extend in-state tuition to students from the U.S. territories displaced by the September hurricanes Maria and Irma. The Board's resolution also authorizes CUNY's 24 college presidents to provide additional financial assistance to affected students on a case-by-case basis.
"Hurricanes Irma and Maria had a devastating impact on Puerto Rico and the U.S. Virgin Islands," said Board Chairperson William C. Thompson Jr. "While families are trying to rebuild homes and lives, CUNY will make every effort to support college students who were displaced by these disasters. Today's vote represents an important step in enabling students affected by the devastating hurricanes to continue their college education."
Chancellor James B. Milliken said, "I applaud the Board and the Governor for supporting tuition relief that will help our students from the affected territories get through this difficult period for them and their families."
In a report to the Board of Trustees during Monday's meeting, Chancellor Milliken said an effort has been launched to raise private funds to help displaced students defray the cost of attending CUNY and that all CUNY colleges are actively involved in University-wide relief efforts. In addition, CUNY is making laboratory and other space available to University of Puerto Rico faculty and setting up a grant process for collaborative work on recovery issues.
CUNY and New York City have close associations with the Caribbean islands, the Board noted. The Puerto Rican community has long been one of the most vibrant in New York, and no city in the country has more native-born citizens whose families came from the Virgin Islands. CUNY has about 16,000 current undergraduates who identify as Puerto Rican.
The City University of New York is the nation's leading urban public university. Founded in 1847, the University comprises 24 institutions: 11 senior colleges, seven community colleges, the William E. Macaulay Honors College at CUNY, the CUNY Graduate School Center, the CUNY Graduate School of Journalism, the CUNY School of Law, the CUNY School of Professional Studies and the CUNY Graduate School of Public Health and Health Policy. The University serves more than 272,000 degree-seeking students. College Now, the University's academic enrichment program, is offered at CUNY campuses and more than 400 high schools throughout the five boroughs. The University offers online baccalaureate and master's degrees through the CUNY School of Professional Studies.
Sincerely,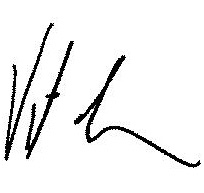 Vince Boudreau
Interim President