Dear College Community,
I'm pleased to announce that Andrew Rich will become the second dean of the Colin Powell School for Civic and Global Leadership, starting on February 25th. I'm excited at the prospect of having new permanent leadership at the school, and eager to see what Professor Rich will bring to his new assignment.
The Colin Powell School has a distinctive mission--to promote and support leadership development and a service ethic among the students working towards degrees in the social sciences. Andy Rich spent his entire career thinking about service promotion among young people. He came to CCNY as an assistant professor and immediately grasped the importance and distinctiveness of our campus mission. As the Deputy Director of the Colin Powell Center, he introduced and championed our service learning program. After he left CCNY to lead the Roosevelt Institute, he built service programs into its programming and then assumed the leadership of America's premier national service fellowship, the Truman Fellowship Program. Given this background and these commitments, I'm confident that Dr. Rich is the right person to guide the Colin Powell School into its new era.
Even after he left CCNY for Roosevelt and the Truman Fellowships, Dr. Rich retained a role and an interest in CCNY. He served as executive director of our Skadden Arps Honors Program in Legal Studies and also directed our semester in Washington program--again, two programs that link service and engagement to educational programs. These are the kinds of programs that lend the Colin Powell School--and CCNY more generally--its distinctive flavor. I'm pleased to welcome Andy back to campus on a permanent basis, in a leadership capacity.
I'd also like to thank the members of the search committee, and of the Colin Powell School, who participated in the search. It's tough work, sifting through resumes, conducting interviews and narrowing a candidate pool down to finalists. I think this group did an exceptional job. I'd also like particularly to thank Kevin Foster for his over two years as interim dean of the school. He won't mind me saying, I think, that this was not work that he loved or aspired to. But he was tireless and dedicated in preserving the momentum of the school, and I am deeply grateful that he took it on with resolve and clarity of purpose.
Sincerely,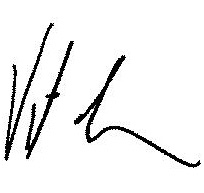 Vince Boudreau
President