Dear Friends, Colleagues, and Students,
I don't know about you, but by this time of the academic year, I'm more or less running on fumes. There's so much to do, every day, to keep our college running, to make sure our students are well educated and cared for. If you're a student, I know that the last weeks of the semester were probably exhausting for you—replete with the rush to finish papers, tie up experiments and lab projects, and prepare for final exams. Our holiday break is upon us, and we have all earned the respite.
Over the next few weeks, we'll all be enjoying some much deserved rest.I hope that each of you find comfort and sustenance in the time you'll spend with your family. I hope that the holidays, and the New Year, bring joy and energy to your lives. I hope that the time you spend with people you love will rejuvenate you, and provide a serene coda to 2016.
As you leave campus for the year, know that the work we do on this campus is a collective effort, and the contributions that each one of you make, every day, matter profoundly to our community. Thank you, each of you, for your dedication and work. May the joys of the season be upon you, and the blessings of prosperity, security and love be close at hand over the holidays and all the year through.
Warmly,
Vincent Boudreau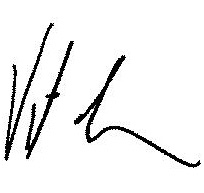 Interim President