Dear City College Community,
On Friday, February 1st, I accepted, with regret, the resignation letter of Dr. Maurizio Trevisan. Dr. Trevisan is the founding dean of the CUNY School of Medicine, and before that, the dean of the Sophie Davis School of Biomedical Education. For years, while dean of our medical programs, he also served as CCNY's provost. The evolution of the Sophie Davis School to the CUNY School of Medicine was in large part due to the efforts of Dr. Trevisan, and I am deeply grateful for his time and attention.
In the very near future, I will be announcing an interim dean for the CSOM. The Provost and I have already communicated with the CSOM student body—and I now take the opportunity to say more broadly to the campus community—that we are fully committed to the success of the medical school and all who work and study within it. In the past weeks, the school has received growing recognition for its groundbreaking work in medical education—recognition that reflects the concerted effort of all who work there, but also a focused effort on behalf of both the college and the university to tell a story of which we are all powerfully proud. We are working, on our own and with the CUNY, to ensure stable and fully accredited futures for both the CSOM and the City College of New York, and expect nothing less than the success of both efforts.
I would like to take this opportunity to thank Dean Trevisan for his years of service and wish him the very best as he returns to the faculty.
Sincerely,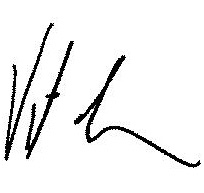 Vince Boudreau
President