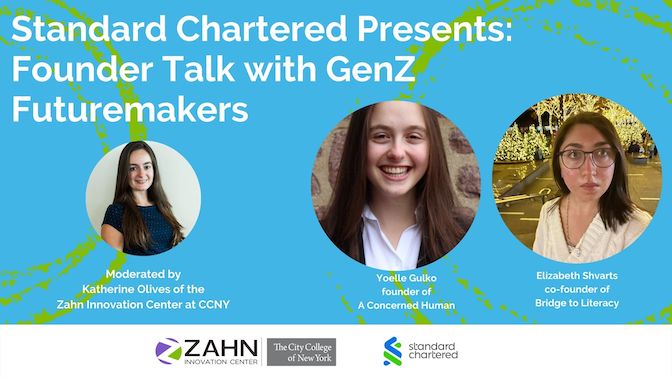 Oftentimes when we speak of Women's History Month we reference events that occurred many years ago. We think of the generations that preceded us and overlook what is happening now. For this year's Her Story Month, Standard Chartered and the Zahn Innovation Center celebrated the historical impact our community members are currently making.
We hosted two events, beginning with International Women's Day. Katherine Olives, Bossgirls Program Manager, spoke with Yoelle Gulko, a sophomore at Washington University and Elizabeth Shvarts, a senior at Staten Island Technical High School. Both are alumni of our Standard Chartered Bossgirls Program, an immersive entrepreneurial educational program for high school students. 
Yoelle is the founder of  A Concerned Human, a video production company. She creates short films about the power of human connection and venturing outside of your comfort zone.  Elizabeth is co-founder/co-director of Bridge to Literacy, a global, UNESCO-recognized U.S Department of State-funded nonprofit that fosters a love of language through literacy-based mentorship of 150+ youth across 6 continents. They both credited the Bossgirls program for equipping them with skills that continue to support their educational and entrepreneurial endeavors.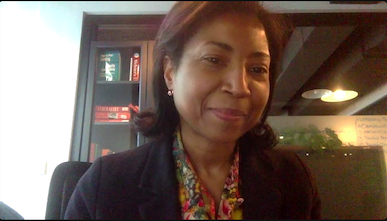 Our next founder talk featured Kim Wales, the Founder and CEO of Wales Capital and CrowdBureau, LLC. She is an Adjunct Professor at The City College of New York (CCNY) and a member of the Zahn Innovation Center's Advisory Board. She is an author, advocate and pioneer on the JOBS Act 2012 (equity and debt internet finance) and the democratization of capital for investors, small cap companies and non-publicly traded funds. In conversation with Lenny Bell and Martha Adeline, of Standard Chartered, Kim discussed what led her to create CrowdBureau and the challenges she overcame.
The work these women are doing now are shaping the future of entrepreneurship and social impact. They are inspiring the next Futuremakers.